Intelligrated® announces the recent appointment of Jeff McKenna to the position of sales engineer for the company's southern regional operations based in Alpharetta, Ga.
Intelligrated® (www.intelligrated.com), a leading North American-based automated material handling solutions provider, announces the recent appointment of Jeff McKenna to the position of sales engineer for the company's southern regional operations based in Alpharetta, Ga.

McKenna, who brings more than 25 years of material handling experience to Intelligrated's sales team, is responsible for managing customer relations in North and South Carolina. He reports directly to Howard Hammer, sales manager, Intelligrated Southern Operations.
Prior to joining Intelligrated, McKenna gained experience in business development and sales management working for a variety of automation companies including, Kiva Systems, Vocollect and Symbol Technologies. He earned his bachelor's degree in economics from the University of Virginia.
"Intelligrated is dedicated to delivering innovative solutions and building long-term partnerships with its customers," said McKenna. "My sales experience and background in fulfillment technologies support the company in building its client base and supplying clients with the appropriate solutions."
Intelligrated continues to expand its engineering, customer service and R&D staffing and testing facilities. The company has added over 200 employees since Jan. 1, 2012, and plans to add 100 more by the end of the year.
For sales and marketing information, please contact Emily Smith, marketing specialist, Intelligrated, by phone at (513) 881-5239 or by email at emily.smith@intelligrated.com.
For media information, please contact Natalie Fioto, public relations, Koroberi, by phone at (919) 945-0566 or by email at natalie@koroberi.com.
##
About Intelligrated
Intelligrated (www.intelligrated.com) is a leading North American-based, single-point provider of automated material handling solutions with operations in the U.S., Canada, Mexico and Brazil. Headquartered in Cincinnati, Intelligrated designs, manufactures and installs complete material handling automation solutions, including conveyor systems, IntelliSort sortation systems, Alvey palletizers and robotics, Real Time Solutions order fulfillment systems, warehouse control software and advanced machine controls-all supported by 24X7 Customer Service and Support.
Serving the warehousing, distribution, consumer product manufacturing, postal and parcel markets, Intelligrated collaborates closely with its clients to develop productivity solutions and support their needs throughout the life of their material handling systems. For more updates, follow us on Twitter www.twitter.com/Intelligrated.
Featured Product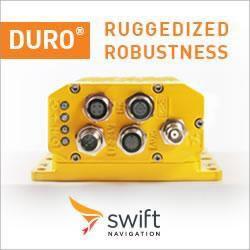 Duro® and Duro Inertial are enclosed dual-frequency RTK GNSS receivers. Designed and built to survive long-term, outdoor deployments, the easy-to-deploy Duro and Duro Inertial combine centimeter-accurate positioning with military ruggedness at a breakthrough price. Duro Inertial features an integrated IMU for continuous centimeter-accurate positioning in the harshest of outdoor deployments.