XIMEA adds Linux capability to world's smallest USB 3.0 line of industrial cameras.
MUNSTER, Germany--XIMEA GmbH - developer of the CURRERA PC cameras, the world's most powerful line of industrial "smart" cameras, and the xiQ series, the world's smallest industrial USB 3.0 cameras - is pleased to announce Linux compatibility for its USB 3.0 camera product line.

XIMEA's xiQ series' industrial-grade cameras now come standard with support software for systems running Linux 3.3 kernels and above, including Linux Ubuntu distribution.
Contrary to reports from competing USB 3.0 industrial-grade camera manufacturers, the xiQ series is the smallest USB 3.0 industrial camera on the market, measuring just 26.4 x 26.4 x 19.1 mm or 13cm2 compared to competing solutions that require 25cm2. To achieve this small size, xiQ uses a single PCB board, compared to three separate PCB boards for other solutions. Coupled with the industry's lowest power consumption and largest complimentary offering of application programming interfaces (APIs) for commercial image processing programs, xiQ greatly simplifies OEM efforts to integrate board-level xiQ cameras into larger manufacturing, medical, security, and medical systems.
The series of xiQ cameras offer all the features customers have come to expect from a XIMEA industrial-grade camera, including USB 3.0 data interface that delivers up to 5 Gbps equal to 400 megapixels per second (Mpix/s), opto-isolated trigger input, illuminator control output, non-volatile memory for user settings and custom data, VGA to 4 Mpix resolution high-quality CMOS sensors, global shutters, frame rates up to 600 fps, improved quantum efficiency (QE) in the visible and NIR spectral ranges, and dynamic range up to 100 dB.
And like all of XIMEA's industrial cameras, the xiQ series ships with APIs for the most common image processing software, including Cognex, Matrox, National Instruments, MVTec, and many more.
About XIMEA
For more than 20 years, XIMEA GmbH's designers have created the smartest, most compact industrial cameras for machine vision applications in motion control, assembly, robotics, and industrial inspection and process control, as well as cutting-edge cameras for life-science, security, and defense applications. Learn more about XIMEA at www.ximea.com, the CURRERA series here, as well as the complete range of industrial cameras: http://www.ximea.com/industrial-cameras.
Featured Product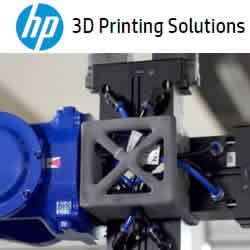 From molds to final and spare parts, produce quality 3D printed parts with optimal mechanical properties without the long lead times. See how HP 3D Printing with HP Multi Jet Fusion helps these companies reinvent the design and manufacturing of custom robotics and grippers.