Small Solar Electric-powered Drone Aircraft Bolsters Ascent Solar's Product Portfolio
THORNTON, Colo.--Ascent Solar Technologies, Inc. (NASDAQ:ASTI), a developer of state-of-the-art, flexible thin-film photovoltaic modules, announced today it is collaborating with Silent Falcon UAS Technologies and Bye Aerospace to provide its lightweight, flexible copper-indium-gallium-diselenide (CIGS) photovoltaics to power the Silent Falcon™ unmanned aerial system (UAS). Silent Falcon™ is a small tactical UAS drone designed to be easily carried and used for longer-duration intelligence, surveillance and reconnaissance (ISR) missions. Recently unveiled at the Association for Unmanned Vehicle Systems International (AUVSI) conference in Las Vegas, Silent Falcon™ represents the synergy of several new technologies, including ASTI's flexible photovoltaic modules, to provide a near silent, rapidly deployed platform that has multiple military and civilian applications. With three wing configurations available for different mission profiles, each Silent Falcon™ system could represent up to 30 modules.

John W. Brown, CEO, Silent Falcon™ UAS Technologies states: "We believe that today there is a large and growing global military and public safety agency market for small or tactical unmanned aircraft systems (UAS). In these markets alone, sales exceeding several hundred units per year are possible. As their use in these markets proves their utility and functionality, and as the FAA rules for domestic commercial, civilian use become more clear, we believe the market size and number of annual units sold could increase substantially."
Ascent Solar's President and CEO, Victor Lee, said, "Our collaboration on Silent Falcon™ represents a key strength of our product, namely that its lightweight and flexible nature can address multiple markets, from consumer electronics to building integrated PV, and that our manufacturing process is sufficiently agile to support them simultaneously. We see this emerging electric drone market expanding rapidly, with applications ranging from military to disaster relief with rapid deployment and recovery with little risk to human life."
About Ascent Solar Technologies, Inc.
Ascent Solar Technologies, Inc. is a developer of thin-film photovoltaic modules using flexible substrate materials that can transform the way solar power generation integrates into everyday life. Ascent Solar modules, which were named one of TIME Magazine's 50 best inventions for 2011, can be directly incorporated into standard building materials, commercial transportation, automotive solutions, space applications, consumer electronics for portable power and durable off-grid solutions. More information can be found at www.ascentsolar.com.
About Silent Falcon UAS™ Technologies
Silent Falcon UAS™ Technologies was established in 2010 to introduce disruptive technological UAV innovation to global defense, intelligence and national security agencies, the domestic public safety agency market and U.S.-based private security contractors. The company is headquartered in Albuquerque, New Mexico. For more information, go to www.SilentFalconUAS.com.
About Bye Aerospace
Bye Aerospace, founded in 2007 and headquartered near Denver, is applying clean energy solutions to innovative aircraft designs for the aerospace and defense markets. For more information, go to www.ByeAerospace.com.
Featured Product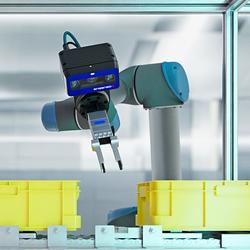 App Your Sensor®! What would smartphones be without apps? They would be mobile phones that can't do much more than make phone calls and sending SMS. Apps turn smartphones into intelligent assistants with any number of different tasks. Transferred into the world of image processing, this app-based approach transforms cameras and sensors into customised, smart vision sensors.