Ellison Technologies Automation will showcase two robots at this year's IMTS
COUNCIL BLUFFS, Iowa. - (Tuesday, September 04, 2012) - Ellison Technologies Automation will be showcasing the industry's future with two robotic automation cells as part of this year's International Manufacturing Technology Show (IMTS), one of the world's largest manufacturing trade shows that brings in over 80,000 visitors and approximately 1,500 exhibits each year.

Held September 10-15 at McCormick Place in downtown Chicago, IMTS 2012 visitors will see two Ellison Technologies Automation robotically automated machining solutions. The cells include a FANUC Robotics top-loader robot cell and a Lean Machine (LM). The LM Cell is considered to be the outstanding leader for automated machining.
The LM Cell is designed by the skilled team at Ellison Technologies Automation and has been applied to multiple machine platforms due to its inherent flexibility. Both automated solutions increase productivity and reduce part cost while demonstrating the ability to use robotic automation with different control platforms and from different machine tool builders.
The top-loader robot slides on a rail high above the ground, moving product back and forth between different machine tools. The primary objective of the cell is to have an automation cell that will reduce space but increase productivity. Additionally, the automation cell gives workers in shops a clearer and safer workplace.
"IMTS always attracts the best in the industry from all corners of the globe," says John Burg, President of Ellison Technologies Automation. "Showcasing the future in automation and robotics while representing Council Bluffs is exciting for everyone at Ellison Technologies Automation."
About: Ellison Technologies Automation
For over 29 years, Ellison Technologies Automation has been a leader in industrial robotic system integration. Located in Council Bluffs, Iowa, ET Automation meets the needs of its customers by developing and programming automated systems that fit each need of the client. Designing robotic automatic systems for agricultural, medical, automotive, military and other consumer business uses, ET Automation's skillful team of engineers and dedicated staff ensures that American businesses compete and win around the world. For more information on ET Automation, please visit http://www.ellisontechnologies.com/solutions/ellison-automation-overview.
Featured Product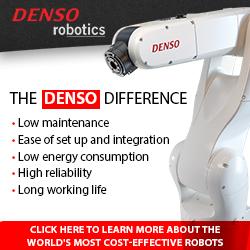 DENSO is the world's largest manufacturer - and user - of small assembly robots, employing over 17,000 of its robots in its own facilities. Over 77,000 additional DENSO robots are used by other companies worldwide. The compact, high-speed robots are used in traditional manufacturing sectors, as well as in advanced-technology applications in the medical, pharmaceutical and life sciences industries. Learn more about DENSO Robotics