Shimi, the dancing robot and speaker system, debuts on Kickstarter today
ATLANTA--Tovbot (www.Tovbot.com), an Atlanta-based personal robotics startup competing in the TechCrunch Disrupt Startup Battlefield, announced its plan to bring Shimi, a robotic musical companion, to the masses via Kickstarter, a crowdsourcing platform that helps creative projects come to life. Developed by a team of roboticists from Georgia Tech, IDC Herzliya and the MIT Media Lab, Shimi is an intelligent robot that serves as both a high-quality speaker system and dance partner.

Shimi, appropriately named after the "Shimmy" dance move, is more than an "appcessory," he's a robotic musical companion. Shimi loves to play and listen to music from a docked iPhone or iPod, then dance along with the beat and even create new, unique musical compositions. He also has the ability to react to humans, using advanced facial and speech recognition algorithms.
The Tovbot Kickstarter campaign will be used to transform the Shimi prototype into a product that can be mass manufactured and sold at an affordable price.
"Kickstarter is the perfect platform to introduce Shimi to its audience of early adopters who are looking for both practical and novelty innovations," said Tovbot Co-Founder, Gil Weinberg. "We're confident that Shimi will dance his way into everyone's hearts as soon as they hear the sound he produces and see the moves he can make."
First and foremost, Shimi functions as a high-quality speaker dock with an optimized shape designed for ideal sound reproduction. Beyond producing the ultimate in sound, Shimi uses your iPhone as its brain, making it your own personal robotic musical companion. Shimi not only knows and understands music, but also knows and understands what moves you.
Once the music starts, Shimi takes the stage. Five strategically placed motors allow Shimi to dance to the beat of any song, with a variety of dance moves that fit the specific song and genre. As your musical companion, Shimi always knows where you are in the room and points the speakers toward you. He also responds to your voice, your taps, your gestures, learns your musical preferences and even recommends new music for you.
"In a way, Shimi started out as an animated character. We worked to nail down his personality and then we transferred that into the robot," said Guy Hoffman, Chief Technology Officer. "The result is that Shimi doesn't just play your music, he actually listens to it and enjoys it as much as you do."
To showcase the Shimi innovation, Tovbot was selected to participate in this week's TechCrunch Disrupt event as a contender in the Startup Battlefield. Looking ahead, Shimi's development team will continue to create new applications, including apps for gaming, education, music production, tele-presence and more.
Tovbot's Shimi has a target availability of February 2013. Supporters can back the Kickstarter campaign immediately for just $149 to bring home their own Shimi robotic musical companion. Shimi was developed with support from the National Science Foundation, Georgia Tech, and IDC Herzliya. For more information on Tovbot or Shimi, visit www.Tovbot.com.
About Tovbot
Tovbot was formed in 2012 by a group of robot researchers and entrepreneurs hailing from Georgia Tech, IDC in Israel, and MIT Media Lab. Our goal is to foster a new paradigm of personal robots - robots that don't just clean your floors or your pool, but also interact with you on a personal, almost human level. Our strategy is to combine exciting trends in technology - cloud computing, omnipresent networks, advanced smartphones - with our own hard-earned robotics knowhow to deliver the most advanced and compelling personal robotics products the world has ever seen.
Featured Product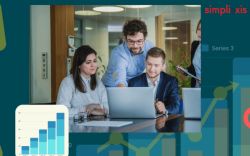 Honeywell Intelligrated has distribution and fulfillment expertise, system integration experience and innovative robotic controls foundation to relieve labor and productivity pressures in your distribution center.