Festo was the leader in the field of pneumatic rodless actuators with its groundbreaking DGO magnetically coupled cylinder.
HAUPPAUGE, NY- Festo Corporation, the United States arm of one

of the world's leading manufacturers of automation equipment, is celebrating
40 years of advancing automation. Based in Hauppauge, New York, the
company has grown to become a significant force in the process and
industrial automation industries.
Festo Corp. was formed in 1972 to provide parts and service to
Festo's woodworking equipment and to market the line of pneumatic
automation components. Over the years the company expanded to better
serve the US market, with the first major expansion coming in 1983 when the
US production facility was introduced.
Festo has continuously developed new innovative products and
service offerings to help our customers maximize productivity and
efficiencies. Festo was the leader in the field of pneumatic rodless actuators
with its groundbreaking DGO magnetically coupled cylinder. We were also
the first to recognize the value of integrating pneumatic valves and electronic
controls and brought the first intelligent fieldbus valve manifolds to the
market. Today our CPX/MPA Intelligent Valve Manifold systems enable
integration like no other; along with valve control, the CPX is capable of
proportional pneumatics and even servo motion control. After four decades
the innovations still continue. 2012 saw significant advancements in product
offerings including such innovative handling solutions as the DHMB Pitch
Slide Module and the telescopic Sliding Fork assembly.
A proving ground for new technology has been the Bionic Learning
Network. Festo Research & Development, along with key partners, have
taken to studying nature to devise efficient and safe motion for the factory of
the future. In 2006, the Bionic Learning Network was launched and since
this time Festo has been developing and supporting projects whose basic
technical principles are derived from nature developments such as the Bionic
SmartBird, AquaJelly and Air Penguin. These developments challenged the
Festo engineers to look at lightweight materials, new production methods,
and control techniques.
With the innovation highlighted by the Bionic Learning Network, it was
a natural choice for Festo to host a 40th Anniversary celebration at the
Atlantis Aquarium in Riverhead, NY. Here Festo's bionic AquaJelly and
AirPenguin were on display alongside the many wonderful natural displays.
The event was attended by over 250 people including several local
politicians, customers, many of the Festo staff, and the Management Board.
"The 40th anniversary of Festo Corporation is truly a celebration of
what Festo is all about. This is exemplified by the vision, mission and
strategy along with an ownership that truly believes that it is the people that
differentiate Festo from the rest." said Richard J. Huss, President and CEO
of Festo Corporation. "We are all very proud of this accomplishment and
grateful to our customers and employees who helped get us here." stated Mr.
Huss.
Festo Mission Statement
At the forefront of industrial automation. We work with our customers
to increase their productivity. We combine our knowledge with a passion for
detail, never losing sight of the big picture. We foster sustainable growth and
keep the world moving.
About Festo
Festo is a leading manufacturer of pneumatic and electromechanical
systems, components and controls for process and industrial automation.
For more than 40 years, Festo Corporation has continuously elevated the
state of manufacturing with innovations and optimized motion control
solutions that deliver higher performing, more profitable automated
manufacturing and processing equipment.
For more information, visit www.festo.com/us.
Featured Product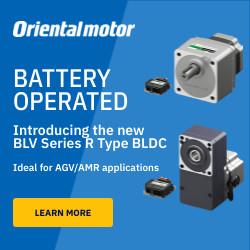 The BLE2 Series replaces our popular BLE Series and continues our brushless motor advantages by featuring an all new compact, high-power and high-efficiency brushless DC motor combined with a Driver that can be digitally set and controlled via external DC voltage or by the front panel. The BLE2 Series can easily compete with larger 3-phase inverter driven motors in many more applications, with built-in simple holding torque function, saving space and increasing performance thanks to the advantages of a brushless motor design. The BLE2 Series has a maximum speed of 4000 r/min, achieving a speed ratio of 1:50 (80 to 4000 r/min). The new motor structure is small than previous models and enables high power and high efficiency while incorporating easy setting, installation and wiring. The new motor connector offers IP66 degree of protection and allows for easy and direct connection between motor and driver with two available orientation of cable outlet direction. Standardized use of stain