"This is only the first success story in what we predict will be a worldwide movement"
HOUSTON--As Quantum International Corp. (OTCBB: QUAN) continues talks to help develop and market new technologies related to robotic exoskeletons, the incredible medical devices have hit a new milestone.

Earlier this year, paralyzed British citizen Claire Lomas became the first person to begin home use of the robotic exoskeleton that helped her walk in the 2012 London Marathon.
The motorized legs, developed by Argo Medical Technologies, allow Lomas to stand, climb stairs and walk around independently for the first time since her life-changing accident in 2007. Reuters recently reported that Argo believes that a quarter of a million wheelchair users could benefit from its ReWalk system. The exoskeleton market for able-bodied users in physically taxing jobs or athletic training could be much larger. Some analysts have estimated the global market potential to be between $500 million and $1 billion dollars.
"This is only the first success story in what we predict will be a worldwide movement," said Quantum CEO Robert Federowicz. "In addition to walking, robotic exoskeletons allow disabled users to speak to friends and family eye-to-eye and exercise in ways that weren't possible before. They can also help reduce the costs associated with treating paralyzed patients for illnesses such as the loss of bone density."
"Put simply, we believe the market potential for advanced new exoskeletons to be huge," he said.
Quantum is already working to deliver better, more innovative robotics products to the U.S. marketplace. The company recently signed a non-discloser agreement with the University of Houston so that serious discussions can begin on a possible collaboration with researchers there who are working on an external brain-machine interface that could allow users to manipulate an advanced Rex Bionics robotic exoskeleton using their thoughts alone.
For more information on Quantum International's robotics initiatives, please visit www.quantuminnovators.com/investors.html.
Featured Product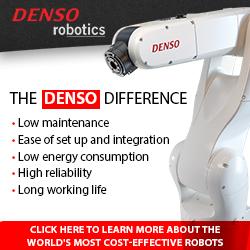 DENSO is the world's largest manufacturer - and user - of small assembly robots, employing over 17,000 of its robots in its own facilities. Over 77,000 additional DENSO robots are used by other companies worldwide. The compact, high-speed robots are used in traditional manufacturing sectors, as well as in advanced-technology applications in the medical, pharmaceutical and life sciences industries. Learn more about DENSO Robotics