Thanks to a grant from the LEGO Foundation, Thomas County Central recently established a robotics program and team.
THOMASVILLE, GA (WALB) - Hopefully, they're not building any terminators, but students at one south Georgia high school are learning more than they ever imagined about robotics.

Thanks to a grant from the LEGO Foundation, Thomas County Central recently established a robotics program and team.
For three students at Thomas County Central High School, this new robotics program is potentially life changing.
"I was actually really intrigued by it because I'm wanting to get into engineering when I get out of high school in the military so I just figured it would be a good way for me to get involved with that and get ready," said Taylor Bodiford.
"I really was wanting to go and be a teacher, but engineering has been an open door to me now," said Kacy Jones.
"At first coming in here I didn't hardly know anything about robotics or anything like that, but if you just take the time to look at it, it gets simpler and easier," said Colin Sharpe.
The LEGO Foundation recently awarded the school a grant which allowed them to create an entirely new curriculum.
"Not only do they learn about the engineering with the technology and the programming, but it also focuses on gracious professionalism and core values and it's a really good all around program," said Instructor Laura Kornegay.
This new program is not only a class, but also an opportunity to compete with other students across the country.
"We don't really know exactly what to expect going into it. Just like you said this is out first year. We went to a kickoff challenge a couple months ago basically to give us an idea of what we're going to have to do and build for the robot," said Bodiford.
And freshman Kacy Jones says she's looking forward to continue building the program as a founding member.
"Basically everybody else is a senior and I'm a freshman so I maybe get to spend the next four years doing the same thing and it's really fun so the chance to get to do it all four years of high school is really exciting."
The competition circuit is sponsored by FIRST which is a non-profit organization dedicated to inspiring young people to become science and technology leaders.
Featured Product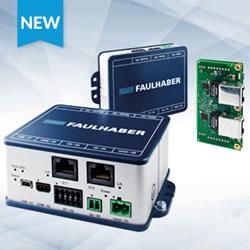 MICROMO launches the new MC3/MCS motion control family. The new high performance, intelligent controllers are optimized for use with FAULHABER motors, offer electronics for simple operation with state-of-the-art interfaces for multi-axis applications, and provide a motion control system solution with the most compact integration into industrial grade housing.