Company Aims to Leverage Artificial Intelligence Research to Provide Sophisticated Speech Recognition Products at a Fraction of the Cost of Traditional Vendors
Waterloo, Ontario October 02, 2012

Vestec, Inc. announced today that the company has secured up to $6.4 million in funding from Sansar Private Equity Partners as part of its 2nd institutional round of fund raising. Sansar has purchased $3 million of stock and obtained warrants with an option to invest another $3.4 million. The new funding will enable Vestec to expand its product portfolio and geographic coverage in the rapidly growing market for speech recognition products and speech enabled services.
Unlike traditional speech technology providers, Vestec is focused on demystifying and popularizing speech technologies by leveraging unique Artificial Intelligence (AI) research tools. Its AI-based approach significantly reduces time-to-market and deployment costs of speech solutions as well as significantly increases their understanding accuracy and customer satisfaction. The company offers a full range of robust, standards-based products to speech enable a wide variety of applications in all key industries. The core product portfolio consists of ASR (Automatic Speech Recognition), NLU (Natural Language Understanding), and TTS (Text to Speech) engines. All major languages spoken around the world are supported and the core speech products are available in embedded, server, distributed and cloud configurations.
"Speech recognition is a major growth opportunity around the world and we intend to serve the market with competitively priced innovative products," said Dr. Fakhri Karray, Vestec's primary Founder and Chairman. "Recent advances in Artificial Intelligence give us the proverbial silver bullet to upend the industry's traditional practice of premium pricing and technology mystification. We are thrilled that Sansar shares our vision and we are looking forward to working with them to build shareholder value."
ABOUT VESTEC:
Vestec was founded by a distinguished group of Artificial Intelligence (AI) researchers from Canada's famed University of Waterloo to leverage AI advances to address the cost and performance issues of traditional speech products. We firmly believe recent advances in AI are creating a paradigm shift in speech recognition, semantic understanding, and spoken text technologies. We offer AI-based speech products and custom solutions for enabling sophisticated speech-based user interfaces in all major languages for a wide variety of business processes. Visit us at: http://www.vestec.com
ABOUT DR. FAKHRI KARRAY:
Dr. Karray is a world renowned expert in computational intelligence and founded Vestec to commercialize language understanding technologies developed under his supervision at Canada's famed University of Waterloo. He is the University Research Chair Professor in the field of Intelligent Systems at the University of Waterloo as well as the co-Director of the Center for Pattern Analysis and Machine Intelligence (PAMI) Laboratories, a world renowned research center in the field of Intelligent Systems. He has written over 300 scientific papers, holds 14 US patents, has supervised more than seventy Masters, Doctoral and post-Doctoral researchers, and authored a seminal textbook in the field of Soft Computing. He has also chaired numerous international scientific conferences, received several national and international awards for his work in the field of computational intelligence, and advised some of Canada's leading corporations and entrepreneurs on technology development. He holds a PhD in Systems and Control from University of Illinois, Urbana-Champaign in the US as well as a BSc and MSc in Electrical Engineering from University of Tunis in Tunisia. He is a fluent speaker of Arabic, French, and English.
ABOUT WATERLOO:
Waterloo Region is Canada's premier technology hub. It is home to nearly 1,000 technology companies, generating more than $25 billion in annual revenues, and employing over 30,000 people. It hosts research centers of major international technology firms such as Google, Microsoft, Oracle, Intel, RIM, Open Text, Agfa, Sybase, McAfee, Desire2Learn and Electronic Arts. There are more than 550 startups and three business incubators for commercializing research. Taken together, the cluster represents competency in everything from software development, digital media, mobile and wireless, to advanced manufacturing, robotics, aerospace and defense, to clean and biotech, health, IT services and telecom.
The University of Waterloo plays a pivotal role in fostering cutting-edge research and technological innovation in the Waterloo Region and beyond. It has been ranked as Canada's most innovative university and has the largest co-op program in the world. Its Engineering Faculty and Computer Science and Mathematics departments are among the largest in North America. University professors and students retain all rights to intellectual property developed by them. A quarter of the Canadian IT spinoffs trace their origins to the incubator programs at University of Waterloo.
Featured Product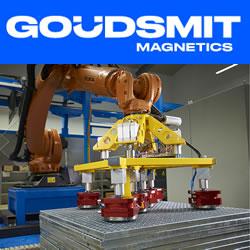 Magnetic robot end-of-arm tooling are suitable for the automated pick-up and positioning of steel or other ferromagnetic objects. They can be switched on and off and have a threaded mounting hole for robots. Magnetic grippers are an efficient alternative for traditional robot grippers. Application in automated production lines and for robots and pick-and-place systems. Magnetic product handling reduces the duration and number of operations. Goudsmit Magnetics is driven by magnetism since 1959. See how it works: https://youtu.be/hcXJ98mXHZE