The Vigilus MCP is an autonomous mobile robot designed to patrol interior spaces such as warehouses, distribution centers, shopping malls, event centers and the like, and to report anomalies and sensor readings that exceed client-established parameters.
DENVER, Oct. 1, 2012 -- "The Vigilant Robots product launch of the Vigilus™ Mobile Camera Platform (MCP) at the 58th annual American Society for Industrial Security's (www.ASIS2012.org) conference and exhibition was incredibly successful" stated Pam Gheysar, CMO. "After over two years of research specifically focused on industrial security needs, we thought that we had the right product at the right time." She continued, "Winning the ASIS Accolades award for 'Security's Best' validated that. Now we know that all the industry research, and the five years developing an autonomous robot has resulted in the right product."

"This is ground-breaking, disruptive, sophisticated technology that is useful, affordable, easy to install and use, and provides real value to our customers" said CEO Dr. Louise Gunderson. "We had no doubt we could make a 'cool' robot; that is relatively easy" she continued, "but autonomy is hard. We know this because there are very few examples of true machine intelligence that has been developed into a useful product that is safe in dynamic, human-centric environments."
The Vigilus MCP is an autonomous mobile robot designed to patrol interior spaces such as warehouses, distribution centers, shopping malls, event centers and the like, and to report anomalies and sensor readings that exceed client-established parameters. It acts as an augmentation to the human security officer force, and, in some instances, may be the only security asset "on the ground."
Autonomy means that no one has to monitor or drive the robot, and it will patrol as long as the battery lasts; ten hours without battery degradation. At installation, the robot is given a digital map of the site, along with client supplied names for the locations. Using non-technical language further increases usability if a security instance occurs; telling the robot to "go to the loading dock" allows the security officers to focus on incident control and reporting, rather than spending time directing the robot's movements. Changes to the overall layout of the space can be easily communicated to the robot, making it inexpensive to make needed changes, therefore allowing businesses to develop without being constrained by their security technology.
Designed to carry a variety of IP-ready devices means that the Vigilus MCP can be easily and economically outfitted with client specified cameras, environmental sensors, access control devices; whatever the client requires to monitor and secure their assets.
Security professionals at the 2012 ASIS exhibition quickly realized that this technology was a game-changer, and that having autonomous mobile robots in their inventory would set them apart from their competitors, increase the affordable security options they could offer their clients, and increase the skill set of their technicians, who will be trained to service the robots. Vigilant Robots has received inquiries and interest from across the country, and international interest was significant.
"The businesses charged with providing physical security have been challenged for several years to meet regulation-imposed requirements, such as 'CFATS', maintain a security officer staff that is well-trained and motivated, and do it all while facing diminishing security budgets. This problem is not just within our borders, but is likely found on all continents, even Antarctica. There is always a need for security, and our robot can provide it in a variety of circumstances and settings, at an affordable cost. That was not lost on the security professionals we talked to at ASIS" said Dr. Jim Gunderson, CTO and co-inventor of the Vigilus security robot.
The award-winning Vigilus MCP security robot was designed and manufactured in Denver, with very few components sourced beyond the Front Range of Colorado, intentionally. "As little as possible is custom-made, which keeps the cost down, and we chose local products whenever we could, keeping the spending in the United States. We believe America provides the high-tech talent we need to succeed. Local sourcing also provides our clients with the assurance that their robot, as sophisticated as it is, is easy to use and maintain, and efficient to operate" said Dr. Jim Gunderson.
Featured Product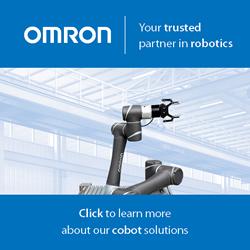 Our fully autonomous intelligent vehicles will help you to transform the way you move materials and route your workflows. Increase throughput, eliminate material flow errors, improve traceability, maximize flexibility and allow your employees to focus on higher level tasks. Unlike traditional AGV's, our mobile robotics navigate using the natural features of your facility and do not require expensive facility modifications or guidance. Our AIV's can adapt to changes in their environment and work freely and safely with your staff. Our mobile robots are intelligent enough to quickly learn their environment and then automatically find the optimal path to where they need to go. They also automatically make adjust for dynamic environments and can work together in fleets of up to 100 robots.