GIA announces the release of a comprehensive global report on Packaging Machinery markets. The global market for Packaging Machinery is projected to reach US$52.9 billion by the year 2018. Despite the tight grip of worldwide economic uncertainty on the broader packaging industry, the high-performance Packaging Machinery market continues to flourish, driven by the need for convenient, innovative, and smart packaging solutions. Major growth is likely to stem from lucrative end-use industries such as food & beverage, pharmaceuticals, personal care products, printers, converters, and others. Increasing production capacity and robust growth from developing BRIC economies of China, India, Brazil, and Russia will fuel rapid demand in the future.
San Jose, CA October 05, 2012

Packaging is a highly versatile facet of a product, attuned to changing consumer preferences. With expanding global trade and economic cooperation, products are now finding new consumers and markets. As a result, the role and demand for new packaging systems is expanding, leading to growth in demand for new packaging machinery. The packaging machinery industry deals with a continuously demanding environment. While each product segment runs a unique risk of market life-cycle, technological obsolescence, and mounting environmental and informational concerns, segments are also fuelled by growing global trend of consumer-led packaging material and technological innovations. In all, the industry's strength is vested in the huge and well-diversified portfolio of end-use industries and opportunities in packaging materials, processes, escalating consumer preferences of package quality, and product innovations requiring change of packaging technology.
Surging demand for packaging in developing countries of China, India, Brazil, Russia, Ukraine, Indonesia, Iran, Malaysia, Saudi Arabia, South Africa and Mexico among other countries is expected to be the key factor pushing growth over the coming years. The broader trends driving the market include increasing urbanization, expanding healthcare and escalating investments in construction and housing. Consumption of a wide range of products is currently being fueled by growing disposable incomes, ultimately stimulating demand for different kinds of packaging.
Packaging machinery is bracing up to meet global equipment standards in response to escalating productivity and efficiency demands of both industrial and retail markets. Automation suppliers are partnering with clients, customers, and engineering firms, to deliver sophisticated systems with advanced control architectures. A growing trend of integration, automation and standardization is predominant in the machinery manufacture sectors. In the context, increasing deployment of robotics and related technology is a bold step in the effort to introduce complete automation in the packaging process. Robots, which are capable of efficiently handling heavy lifting activities on the packaging floor, are finding increased takers. Packaging and palletizing robotic systems witnessed a healthy increase of 100% in sales over the past decade.
Despite the tight grip of the global economic uncertainty on the broader packaging industry, the vibrant, high-performance packaging machinery market continues to flourish. Consumers are increasingly demanding innovative packaging solutions that entail improved resistance to moisture, shock and vibration, while retaining aesthetic properties, adaptability and economy. The packaging materials industry responded to the call with a touch of ingenuity, such as replacing conventional foam filling with corrugated and engineering composites. Some of the emerging market trends include, increasing deployment of servos, networking architectures and robotic applications in packaging machinery. Manufacturers are also rising to the challenge of developing new protective solutions for price sensitive equipment used in automotive, metrology and offshore verticals. The lucrative metrology sector, in particular, shows an increasing affinity for customized engineered packaging solutions that ensure safe transit of valuable instruments, thereby minimizing the risk of customer complaints and equipment loss.
The myriad conflicting regulations related to sourcing, reuse and recycling of packaging materials poses a formidable challenge for plastics packaging businesses. Besides meeting stringent regulatory norms, players are expected to address the packaging standards of major export destinations. Manufacturers operating in China, India and other emerging economies are coming up against a wall of tough, new environmental regulations, as respective Governments attempt to curb the ecological impact of packaging waste. There is an urgent demand for Sustainable Packaging technology/practices that aid in reducing packaging waste and have lower environmental damage, including efficient water usage, lower use of materials and lower carbon footprint in product packaging. Producers of food and beverages are witnessing a growing interest for "green" products from retail chains and consumers. As a result, end-use manufacturers are increasingly embarking on novel processes and materials for their products, either voluntarily or to address legal requirements.
Western Europe and Asia-Pacific lead the way in the packaging machinery market, garnering a significant share of the global pie, as stated by the new market research report on Packaging Machinery. Eastern Europe, exhibiting stronger growth patterns and accompanied by snappy revival of the Russian economy, is expected to register a robust growth through the forecast period, outpacing growth of major European markets, including Germany, Italy, and the UK. Asia-Pacific represents the world's fastest growing packaging machinery market, catalyzed by high dynamism in China, India, Thailand, Malaysia and others markets. Undeterred by the recent economic recession, the Asian market is projected to post an impressive CAGR of about 9.7% through 2018. Market liberalization, cheap production costs, favorable investment policies/taxation regimes, and huge untapped markets are luring many overseas companies to set up base in Asia-Pacific, further enriching growth possibilities.
Segment-wise, Flexible Packaging Machinery leads the pack, cornering the largest share of the global market. High competition among producers is triggering the call for flexible machinery capable of rapidly adapting to small batch sizes, without sacrificing productivity, thereby rendering old generation large-scale packaging systems defunct. Aseptic Packaging Machinery, which offers several advantages in food, beverage and pharma drugs handling is expected to stride ahead at the fastest growth rate of 8.9% over the analysis period. Bio-technology based drugs, aseptic requirements for filling liquid pharmaceuticals and the growing preference for drugs in unit-doses among healthcare providers, will result in a rapid growth for this type of packaging in the pharmaceutical market. The end-use markets of food processing and pharmaceutical industry are likely to continue as the leading segments for industrial packaging machinery. With shortened innovation cycles and heightened competition, these sectors are expected to invest massive amounts in innovative packaging technologies, concepts, and machinery.
Major players profiled in the report include Adelphi Masterfil Ltd., Barry-Wehmiller Companies, Inc., Bosch Packaging Technology, Bradman Lake Group, B&H Labeling Systems, Belco Packaging Systems Inc., CKD Corp., Coesia SpA, Dover Corp., Doyen Medipharm, EDL Packaging Engineers, Inc., Fleximation AG, Harland Machine Systems Ltd., Herma UK Ltd., Illinois Tool Works, Inc., IMA SpA, KHS USA Inc., Salzgitter Klöckner-Werke GmbH, Krones AG, Lantech, Loveshaw Corp., MeadWestvaco Corp., Medical Engineering Technologies Ltd., among several others.
The research report titled "Packaging Machinery: A Global Strategic Business Report" announced by Global Industry Analysts Inc., provides a comprehensive review of the packaging machinery market, industry and product overview, market dynamics, recession trends, key growth drivers, recent industry activity, product innovations/ introductions and profiles of major/niche global as well as regional market participants. The report provides annual sales estimates and projections for packaging machinery market for the years 2010 through 2018 for geographic markets including the US, Canada, Japan, Europe, Asia-Pacific, Middle East, and Latin America. Major end-use markets analyzed include Food Products; Beverages; Paper and Other Non Durables; Pharmaceuticals & Chemicals; Industrial Applications and Other Applications.
Key product segments analyzed include Aseptic Packaging Machinery, Blister Packaging Machinery, Bottles Cleaning/Drying Machinery, Bottling and Canning Machinery, Cartoning/Case Forming Machinery, Coding/Marking/Labeling Machinery, Flexible Packaging Machinery (Form-Fill-Seal Machinery & Pouching Machinery), Laminating/Delaminating Machinery, Palletizing Machinery, PET Packaging Machinery, Testing/Inspecting/Detecting Machinery, Thermo Forming Machinery, Vacuum Packaging Machinery, Wrapping Machinery (Bundling/Strapping/Lacing Machinery, Individual Wrapping Machinery, Over-Wrapping Machinery, Shrink Wrapping Machinery, Stretch Wrapping Machinery & Twist Wrapping Machinery), Miscellaneous Packaging Machinery, and Packaging Machinery Accessories and Parts. The report also provides a historic analysis for additional perspective for the years 2004 through 2009.
For more details about this comprehensive market research report, please visit -
http://www.strategyr.com/Packaging_Machinery_Market_Report.asp
About Global Industry Analysts, Inc.
Global Industry Analysts, Inc., (GIA) is a leading publisher of off-the-shelf market research. Founded in 1987, the company currently employs over 800 people worldwide. Annually, GIA publishes more than 1300 full-scale research reports and analyzes 40,000+ market and technology trends while monitoring more than 126,000 Companies worldwide. Serving over 9500 clients in 27 countries, GIA is recognized today, as one of the world's largest and reputed market research firms.
Featured Product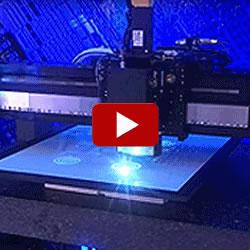 Hexapod micro-motion robots are based on a very flexible concept that can easily solve complex motion and alignment problems in fields including Optics, Photonics, Precision Automation, Automotive, and Medical Engineering.