"The ability to access StarFire corrections over the internet provides our customers an added layer of reliability"
INTERGEO 2012
HANOVER, Germany--NavCom Technology, Inc., a wholly owned subsidiary of Deere & Company (NYSE:DE), announced a new feature for its GNSS receivers, StarFire Over IP. This new feature allows users to access StarFire corrections over the Internet, giving them access to the same reliable five centimeter global positioning accuracy without the need for a base station.
"The ability to access StarFire corrections over the internet provides our customers an added layer of reliability," said Steve Ault, NavCom's Product Manager. "In addition to the nearly 100% uptime of our redundant satellite communications network, users are now also able to access StarFire corrections even in those situations when satellite delivery might be unavailable, such as deep urban canyons or very high latitude locations. Furthermore, the automatic failover capabilities in our StarFire enabled products allow the user to switch seamlessly from satellite to internet delivery of StarFire service and thereby maintain the maximum possible uptime."
NavCom's StarFire Network, a Global Satellite Based Augmentation System, provides five centimeter horizontal accuracy worldwide and the freedom and flexibility that a DGPS solution offers. It offers 99.999% uptime, a seven satellite constellation, and now internet delivery for redundancy to ensure system availability and position accuracy.
StarFire Over IP is an option available in November via a software update for all current StarFire receivers offered by NavCom's global dealer network. For additional product information, visit www.navcomtech.com or contact NavCom's Sales team at +1 (310) 381-2000 or sales@NavComTech.com. Or stop by NavCom's booth at the INTERGEO tradeshow in Hanover, Germany, Hall 9, Booth H.64.
About NavCom Technology, Inc.
NavCom Technology, Inc., a John Deere Company (NYSE:DE), is a leading provider of advanced GNSS products for OEMs, VARs, and system integrators requiring high performance RTK systems, global decimeter level GNSS satellite corrections, geodetic quality GNSS receivers and engineering consulting in the areas of precise positioning, wireless communications and robotics. For more information on NavCom Technology and its products, please visit www.NavComTech.com.
Featured Product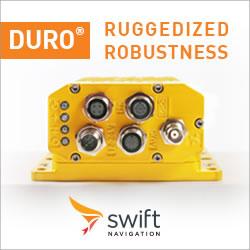 Duro® is a ruggedized version of Swift Navigation's Piksi® Multi RTK GNSS receiver. Built to be tough, Duro is designed for easy integration into existing equipment. This affordable, easy-to-deploy GNSS sensor delivers robust, centimeter-accurate positioning while protected against weather, moisture, vibration, dust, water immersion and the unexpected that can occur in outdoor long-term deployments.