Leaders from industrial robot companies discuss how to introduce disruptive technology to underserved automation customers.
FRAMINGHAM, MA - OCTOBER 16, 2012 - Robot companies will discuss their methods for handling disruptive technologies from the world of research robotics and apply them to new market opportunities during RoboBusiness 2012 Leadership Summit taking place October 22-24, 2012 at Pittsburgh Marriott City Center in Pittsburgh, PA.

Energid and Robai plan to demonstrate a small-footprint robot arm, called the Cyton Gamma, which is now ready for use by industrial customers; the Cyton Gamma installs as simply as a computer monitor, weighs under five pounds, and starts at under $5,000.
"For Robai, we leveraged technology developed for NASA to enable the Cyton arms to reliably perform manipulation tasks," says David Askey, Co-Founder and CBDO at Energid. "Our approach is that powerful software can make robot training natural and intuitive, speeding deployment and reducing total cost of ownership ."
"Our obsession has been on ease of use," said Ranjan Mishra, lead mechanical designer of the Cyton Gamma. "For many tasks, anyone can train the Cyton simply by moving the arm through the desired motions; for more complex planning, an engineer can use the 3D graphical tasking environment. "
Robai hardened the Cyton Gamma for industrial applications by leveraging advanced control software from Energid Technologies and includes features such as easy-to-use training modes. It is designed to be safe near people, handles payloads up to a few pounds, and supports a wide range of manipulation and inspection tasks. Production engineers enjoy the ability to teach the Cyton Gamma where to reach, which objects to grasp and how to manipulate. It can lift an object, turn a knob, flip a lever, or gesture across a touch screen.
A major automobile manufacturer used the Cyton Gamma to reliably test knobs, buttons, and touchscreen interaction on a dashboard. The Cyton allowed repeated physical testing and refinement that would otherwise have required exhausting human effort. Using a robot for repetitive testing is safer and less expensive than manual testing and enables fine-grained defect logging.
Robai has also added support for the Robotic Operating System (ROS) so engineers can integrate the arms with other ROS enabled devices. Paul Evans, the Director of Manufacturing Systems Department at the Southwest Research Institute, says the development of the Robot Operating System (ROS) is one of the most exciting developments in robotics in recent years. ROS is software platform that will provide a common framework across industrial robotics applications.
Additional robots that have evolved from the research domain are being deployed within a major semiconductor manufacturer for the automated transport of semiconductor pods in Class 100 cleanrooms. Adept Technology, Inc. has hardened the software and autonomous mobile platforms from their 2010 acquisition of robot research company Mobile Robots, Inc.
"Adept is very pleased to have begun introducing mobile technology to the semiconductor and cleantech space through this initial production deployment with such a large and respected client," says Rush LaSelle, Vice President and General Manager of Adept Mobile Robots. "Our mobile products are delivering strong returns on invested capital throughout a diverse set of industries by increasing production flexibility, providing more deterministic delivery times when compared to manual processes, and enabling the redeployment of labor to high value tasks."
Adept, Energid, Robai, and the Southwest Research Institute will be giving talks during the workshop session "Rethinking Manufacturing with Robotics" on Monday, Oct 22, at the RoboBusiness Leadership Summit to convey how new technologies are now opening up underserved markets within the industrial automation space.
For media inquiries, please contact Erin Rapacki at rbls12media@gmail.com.
For sponsorship information, contact Rich Erb at rerb@ehpub.com or 508-663-1500 x331.
For more information and to register to attend visit www.robobusiness.com.
ABOUT ROBOTICS TRENDS MEDIA GROUP
Robotics Trends Media Group is the world's first integrated media company serving the burgeoning personal, service and mobile robotics marketplace: Robotics Trends Publishing (www.roboticstrends.com), Robotics Business Review (www.roboticsbusinessreview.com ); and Robotics Trends Events, which produces the RoboBusiness Leadership Summit (www.robobusiness.com), and the virtual conferences (www.robovirtualevents.com).
Featured Product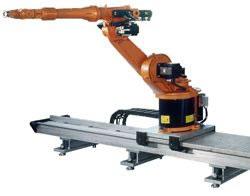 IPR Robotics offers a wide range of servo-driven 7th axis linear rails for industrial robots. These rails come in ten different sizes and are constructed from modular high strength extruded aluminum sections to handle payloads of 100 kg to 1600 kg or from steel to handle 2000 kg payloads. This variety of rail sizes allows each application to be sized correctly, controlling the space required and the price point. The drive train design of these rails utilizes helical gear-racks and is proven over 10 years to be repeatable and reliable, even in tough foundry applications.