After being heavily fired upon during a SWAT operation, the Pointman Tactical Robot has now been repaired and shipped back to its owner/operators in Nebraska. In the original incident, officers of the Bellevue, Neb. Police Department responded to a report of an unstable man with a gun. The Pointman Robot was struck with four rounds from a 12 gauge shotgun at close range. It is now repaired and back in action.
Randolph, Vermont October 18, 2012

In a SWAT operation that concluded with the suspect in custody, a Pointman Tactical Robot was struck with four rounds from a 12 gauge shotgun at close range. Prior to being disabled, the Robot was able to monitor a key exitway for multiple hours, plus relay the position and disposition of the suspect to SWAT officers staged further away. Though the robot was disabled after being fired upon, it did survive the event and has been delivered fully repaired to its owners in Bellevue, Neb.
"Had we not deployed the Pointman Robot there is a good chance we would have had SWAT officers much closer to that doorway and possibly in harm's way," said Dave Stukenholtz, Criminal Investigations Bureau Commander for Bellevue Police Department.
Repairs were completed in less than a month and the robot was shipped back to Bellevue on Thursday, Oct. 11 to resume its SWAT responsibilities.
SWAT Callout Details:
On the afternoon of Friday, August 10, 2012 officers of the Bellevue, Neb. Police Department responded to a report of an unstable man with a gun. Responding officers approached the house, but retreated and established a perimeter after shots were fired from the home. The SWAT team was then called in. While operating from a neighboring garage the SWAT team navigated their Pointman Tactical Robot into a position inside the suspect's garage in order to monitor the exitway. Negotiations continued for several hours. During that period of time, the officer in control of the Pointman viewed the suspect emerging from the garage doorway attempting to close the garage door with his firearm in hand. He then fired four rounds from his 12 gauge shotgun at the Pointman, disabling it. Following that activity, teargas was introduced into the home and the suspect surrendered.
"It did its job," said Bob Quinn, leader of ARA's Unmanned and Security Products Division. "Anytime a robot is shot, it's an example of keeping an officer out of the line of fire. Not only did the robot keep SWAT officers informed of suspect activity, but it's rugged enough that even after four rounds at close range, it's fixable and quickly ready to rejoin the team in Nebraska."
The Pointman, a compact, highly mobile reconnaissance robot is an ideal tool for first responders including SWAT and Bomb Teams. Pointman is currently fielded with law enforcement agencies across the US, and has been supplied to Department of Defense units as well. For more information about Pointman, visit http://www.ara-robotics.com or call (802) 728-4588. Free trials are available upon request.
Pointman has been designed and manufactured in consultation with military and law enforcement experts by Applied Research Associates, Inc. (ARA), an international research and engineering company recognized for providing technically excellent solutions to complex and challenging problems.
Featured Product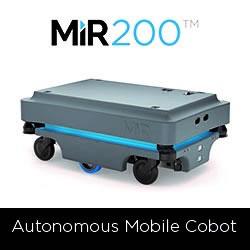 MiR200 is a safe, cost-effective mobile robot that automates your internal transportation. The robot optimizes workflows, freeing staff resources so you can increase productivity and reduce costs. MiR200 safely maneuvers around people and obstacles, through doorways and in and out of lifts. You can download CAD files of the building directly to the robot, or program it with the simple, web-based interface that requires no prior programming experience. With its fast implementation, the robots offers a fast ROI, with payback in as little as a year.