Congressman Mike Doyle, Co-Chair of the Congressional Robotics Caucus, provides an inside look at the National Robotics Initiative at RoboBusiness 2012
FRAMINGHAM, MA - OCTOBER 18, 2012 - Times are quickly changing; new military strategies along with constrained budgets currently challenge the survival of a number of robotics companies. However, the US government aims to stimulate robotics applications for government agencies in the areas of space, education, and health. On Wed., Oct. 24 Congressman Doyle leads the discussion on how to commercialize research through startup creation and technology transfer in order to maintain the US's competitiveness in the world of robotics. The National Robotics Initiative is an unprecedented program to support U.S. leadership in robotics research and development.

National Robotics Initiative awardees of the past year have included two grants, totaling $1.25 million, awarded to the University of California, Davis, by the National Science Foundation to support studies of the impact of robotics in teaching science, technology, engineering and math from elementary to high school.
Both projects are led by Harry Cheng, professor of mechanical and aerospace engineering and director of the UC Davis K-14 Outreach Center for Computing and STEM Education.
"Robotics involves a variety of math, information technology, and engineering concepts," Cheng said. "Introducing computing and robotics into the math and science curriculum helps make abstract ideas concrete and allows students to apply mathematical concepts to real world problems."
NASA invested $2.7 million to kick off eight advanced robotics projects aimed at improving robot technology as part of its long-term plans for exploring Mars. In addition, the National Institutes of Health awarded funding to six projects that include robots to help engineers better design prosthetic legs for amputees, miniature robot pills that help doctors diagnose and treat disease, and microrobots that help researchers make artificial tissues.
The Association for Unmanned Vehicle Systems International (AUVSI) is bringing together an outstanding group of experts to discuss their current and future government robotics initiatives, opportunities for industry participation, and information on how to do business with the federal government for the workshop "Doing Business with the Federal Government - Opportunities, Insights and Information" on Mon., Oct. 22. RoboBusiness and workshop attendees will learn how to take advantage of the STTR/SBIR process and how to make the most of government opportunities to pursue refreshing new ways to use robots.
For media inquiries, please contact Erin Rapacki at rbls12media@gmail.com.
For sponsorship information, contact Rich Erb at rerb@ehpub.com or 508-663-1500 x331.
For more information and to register to attend visit www.robobusiness.com.
ABOUT ROBOTICS TRENDS MEDIA GROUP
Robotics Trends Media Group is the world's first integrated media company serving the burgeoning personal, service and mobile robotics marketplace: Robotics Trends Publishing (www.roboticstrends.com), Robotics Business Review ( www.roboticsbusinessreview.com); and Robotics Trends Events, which produces the RoboBusiness Leadership Summit (www.robobusiness.com), and the virtual conferences ( www.robovirtualevents.com).
Featured Product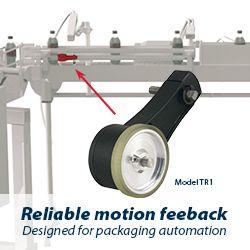 EPC is excited to announce our NEW online 3D Configurator. This new tool makes it even easier to configure EPC's products exactly how you need them for your application. The 3D Configurator interface is intuitive and works in any web browser for both desktop and mobile. It'll only take you a moment to learn your way around the program. Careful, though: it's so fun to play with, you may spend a whole afternoon on it!