RoboBusiness 2012 audience and sponsor base grow 50%+ as industry accelerates
FRAMINGHAM, MA - OCTOBER 22, 2012 - Innovation in robotics components and software continues to accelerate driving new opportunities for robot companies. Today, the 2012 RoboBusiness Leadership Summit opens in at Pittsburgh's Marriott City Center connecting experts from consumer, industrial, hospital, government, space and systems integration to share how robots are solving real problems and making real money.

Other robotics conferences feature information for researchers and hobbyists, but RoboBusiness filters out the tinkerers, focusing on professionals who are steadfast on making a business out of robots and helps them connect with power end-users and systems integrators. Attendees enjoy a comprehensive workshop and seminar program and networking events filled with individuals who are conquering "the hard road" and showing the best way to advance the state of robotics is to develop cost-effective solutions and commercialize the technology.
"As a technology and as an industry, robotics is hitting its stride," says Richard Erb, General Manager of Robotics Trends. "RoboBusiness plays an important role in facilitating industry progress by connecting industry leaders with great information and ideas on future opportunities and , at the same time, attracting top-level decision makers from end-user and systems integration companies to learn more about how to justify and implement robotics."
Attendees will see live demonstrations from Rethink Robotics' "Baxter," which plans to change manufacturing forever, and iRobot's RP-VITA which works with InTouch Health to create a coordinated care experience at hospitals. Bossa Nova Robotics is also expected to make a very special announcement and technology introduction.
Robots from different market domains may not all be created equal. One robot needs to survive a rainfall while another needs to operate 24 hours a day in a factory, but their value propositions remain similar. Robots must perform dull, dirty, and dangerous jobs. In addition, all robots need to save customers time and money. At RoboBusiness, industry experts meet to initiate real robot applications for emerging markets, combine thoughts and observations, and aim to advance the robotics industry.
For media inquiries, please contact Erin Rapacki at rbls12media@gmail.com.
For sponsorship information, contact Rich Erb at rerb@ehpub.com or 508-663-1500 x331.
For more information and to register to attend visit www.robobusiness.com.
ABOUT ROBOTICS TRENDS MEDIA GROUP
Robotics Trends Media Group is the world's first integrated media company serving the burgeoning personal, service and mobile robotics marketplace: Robotics Trends Publishing (www.roboticstrends.com), Robotics Business Review ( www.roboticsbusinessreview.com); and Robotics Trends Events, which produces the RoboBusiness Leadership Summit (www.robobusiness.com), and the virtual conferences ( www.robovirtualevents.com).
Featured Product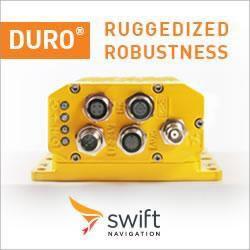 Duro® and Duro Inertial are enclosed dual-frequency RTK GNSS receivers. Designed and built to survive long-term, outdoor deployments, the easy-to-deploy Duro and Duro Inertial combine centimeter-accurate positioning with military ruggedness at a breakthrough price. Duro Inertial features an integrated IMU for continuous centimeter-accurate positioning in the harshest of outdoor deployments.