Enterprise Resource Planning System Designed to Further Improve Manufacturing Efficiency
MOUNT OLIVE, NJ, JUNE 5, 2012 - Integrated Microwave Technologies, LLC (IMT), a Business Unit within the Vitec Group's Videocom Division, and a leader in advanced digital microwave systems serving the Broadcast, Sports & Entertainment and MAG (Military, Aerospace & Government) markets, announces that it has successfully implemented a new Enterprise Resource Planning (ERP) system called Industrial and Financial Systems (IFS) at its engineering and manufacturing facility in Mount Olive, NJ.

The implementation of IFS enables greater efficiency, productivity and lower costs through process automation. IMT expects to reduce inventory costs resulting from better planning, tracking and forecasting of manufacturing requirements. Tasks such as ordering spare parts, logistics, invoicing and data tracking are standardized companywide, streamlining all business functions while increasing quality control.
"The implementation of IFS establishes uniform processes that are based on recognized best business practices," says IMT Divisional Chief Executive Stephen Shpock. "IFS will allow us to achieve better control, greater transparency and accuracy in cost reporting and to further streamline our production workflow. We expect the implementation will improve customer satisfaction based on improved on-time delivery, increased quality and shortened delivery times."
IMT is an ISO 9001:2008 certified QMS organization and recipient of multiple industry awards for design and innovations.
Featured Product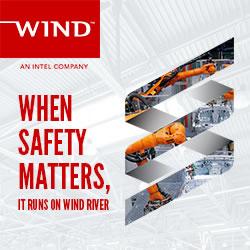 When it comes to ensuring the development of can't-fail systems, Wind River® is a leader with a proven track record of success. With more than 30 years of experience in embedded software and a portfolio of products deployed across more than 2 billion devices, Wind River delivers safety and security when it counts most. From industrial automation to automotive systems, as well as in healthcare devices, railway operations, and throughout the aerospace and defense sector, Wind River has extensive expertise providing built-in safety for complex, connected, safety-critical systems.