Discover automation innovation for the Packaging and Palletizing market in the KUKA Robotics booth N-4709 at PACK EXPO Chicago, October 28th - 31st 2012
Pack Expo 2012

SHELBY TOWNSHIP, Mich. & CHICAGO--Visit KUKA Robotics in booth N-4709 during Pack Expo 2012 to see innovative robotic solutions with new product introductions and demonstrations on how automation can bring efficiency to the packaging and palletizing process.
The KR AGILUS small robot series makes it's debut to the packaging industry at Pack Expo 2012. The KR AGILUS is unique in its payload category; setting new standards with 6 axes, very high speeds, short cycle times, integrated energy supply system - whether installed on the floor, ceiling or wall, AGILUS masters unusual tasks! See a preview video: http://vimeo.com/51151021
Other In-booth robotic innovations will include:
Plastic bottle handling and packaging cell with the KR AGILUS utilizing an ATI tool changer. With the help of the ATI tool changer the KR AGILUS will demonstrate its ability to switch efficiently between plastic bottles and an Apple iPad®.
The new KR180 QUANTEC with an IP 65 rating, hollow wrist and 3,195 mm reach will be demonstrated using the new software package mxAutomation in a bag palletizing demonstration. The mxAutomation function package, KUKA.PLC mxA, makes it possible for external controllers with an embedded PLC to command KUKA robots with elementary motion instructions. The bag palletizing cell can palletize 28 100lb bags per minute.
In a robotic solution provided by Official KUKA Robotics System Partner FleetwoodGoldcoWyard (a Barry Wehmiller Company) we will be exhibiting a versatile robotic case and shrink wrap palletizing or depalletizing system in the KUKA booth. This system is capable of palletizing or depalletizing finished goods and will be demonstrated as a functional cell. Shrink wrapped trays of steel food cans as well as sealed cases will be handled in both a palletizing and depalletizing manner. A magnetic head assembly will be used to pick and place filled cans in shrink wrap trays and an ATI quick change tool will be implemented to change from the magnetic pick/place assembly to a clamp assembly to handle case goods. A unique bi-level pallet handling system will also be represented within the cell to demonstrate floor space saving layout applications. The palletizing cell will feature a KUKA QUANTEC Robot with KRC4 controller while an Allen Bradley PLC and HMI will be used to control the cell.
Demonstrating KUKA's response to customer demand for a unified controlled palletizing solution, KUKA will display a KR 40 PA robot. This solution is provided by select Official KUKA Robotics System Partners. KUKA Robotics is an Encompass Partner. The unified controller solution will also be present at Official KUKA Robotics System Partner, Intelligrated booth (booth # 2274).
The KUKA Robotics System Partner network is designed to mutually benefit each organization's users by extending the way customers can acquire tailored solutions with the major competitive and technological advantage of high precision KUKA robots. The KUKA Robotics System Partner Network includes experienced OEM machine builders, system providers, application specialists and expert robot integrators.
About the KUKA Robot Group
KUKA Robotics Corporation along with KUKA Roboter GmbH, Augsburg Germany (part of the KUKA Aktiengesellschaft group of worldwide companies), ranks among the world's leading suppliers of industrial robots and material handling vehicles. Core competencies include the development, production, and sale of industrial robots, controllers, software, linear units, and omniMove™ omni-directional motion platforms. KUKA robots are utilized in a diverse range of industries including the appliance, automotive, aerospace, consumer goods, logistics, food, pharmaceutical, medical, foundry and plastics industries as well as multiple applications including material handling, machine loading, assembly, packaging, palletizing, welding, bending, joining, and surface finishing. KUKA robots range from 5kg to 1300kg payloads, and 635mm to 3900mm reach, all controlled from a common PC based controller platform. The company is the market leader in Germany and Europe and the number three in the world. KUKA Robot Group employs about 2750 people worldwide. In 2011, sales totaled 616,3 million Euro. 25 subsidiaries provide a presence in the major markets of Europe, America and Asia.
Featured Product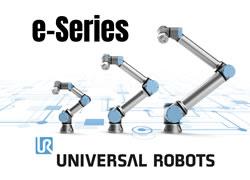 With the new e-Series cobot line, Universal Robots raises the bar for cobots, adding unique new features while significantly strengthening the four core principles defining collaborative robots: fast set-up, easy programming, flexible deployment, and safe operation. With a new built-in, tool-centric Force/Torque sensor the e-Series is ready to take on applications requiring force control right out of the box. A repeatability of 30 micron means the new cobots are suitable for very precise finishing, assembly and electronics tasks. A re-designed user interface decreases cognitive load and expedites program development, while a new externally accessible, 500Hz system bus enables more complex motion control algorithms or profiles.