2013 event in Silicon Valley set to continue positive trajectory with enhanced connections to venture capital, expanded applications and engineering content and enlarged exhibit to facilitate product demonstrations.
Pittsburgh, PA - October 26, 2012 - RoboBusiness 2012 drew to a conclusion with record attendance of more than 400, including participation people who attended when the event began in 2004 and individuals from companies that did not yet exist at that time. Different domains in robotics are related and dependent on each other for combining the best technologies from previous generations of robots with new ideas. RoboBusiness is the place where diversity in thought leadership results in creative insights that drive the industry forward and improve solutions for end-users.

Notable takeaways for RoboBusiness 2012 include:
*The first public unveiling of Rethink Robotics' Baxter, a low-cost, easy-to-implement robot solution that can be applied to fine manufacturing, materials handling and other industrial applications and work side-by-side with humans with minimal safety concerns. Baxter handed out candy to RoboBusiness "trick or treaters" in the Sponsor Showcase at the event.
*Introduction of Bossa Nova Robotics' MObi, a research and development robotics platform built on unique "Ballbot" technology and aimed at generating mass-adopted personal robots and other robots applications that can take advantage of its tall, thin and highly agile form factor.
*An appearance by i-Robot and InTouch Health's new RP-Vita telepresence robot targeted at telehealth and care-giving applications. The RP-Vita actually facilitated a remote presentation from Santa Barbara, CA at the event.
*Numerous presentations on robotics industry investment trends, technology tremds and real world applications of robots in materials handling, health care/quality of life, agriculture, education, manufacturing and more.
"The value of RoboBusiness lies in its ability to bring together robotics business leaders from different market segments. They discover that technology and market challenges across different types of end customers may be similar. Attendees manage to cross-pollenate solutions and knowledge bases in order to advance robotics within a variety of industries," said Erin Rapacki, representative of Silicon Valley Robotics (svrobo.org).
"RoboBusiness 2012 was a watershed moment for the robotics industry and RoboBusiness itself," said Rich Erb, General Manager of EH's Robotics Trends Group, producers of the event. "Ground-breaking technologies and a new, more business-like approach by robotics entrepreneurs are accelerating commercialization of robotics in sectors beyond its traditional defense and heavy manufacturing markets. RoboBusiness is gaining recognition as the event that can facilitate this new generation of growth and opportunity."
Excitement about the maturing robotics marketplace and the unique value proposition of RoboBusiness is driving enthusiasm for RoboBusiness 2013, Oct. 23-25 in Silicon Valley. Twenty-two sponsors have already committed to RoboBusiness 2013, and the number of sponsor companies is projected to grow more than 50%, while audience, including new showcase only delegates, will grow to 800. RoboBusiness 2013 will feature beefed up education for product development/engineering professionals, plus dedicated applications tracks for materials handling, agriculture and forestry and other to be determined vertical markets.
For sponsorship or attendee information, contact Rich Erb at rerb@ehpub.com or 508-663-1500 x331.
ABOUT ROBOTICS TRENDS GROUP
A division of EH Publishing, Inc., the Robotics Trends Group is the world's first integrated media company serving the burgeoning global robotics industry. It produces Robotics Business Review (www.roboticsbusinessreview.com ), a subscription information product providing primary research, exclusive analysis, business news, and market observations for the robotics industry; the Robotics Trends website (www.roboticstrends.com) and e-newsletter, online media focused on technology trends for people who build, buy, and seek to understand the personal, service, mobile, and military robotics markets; and the RoboBusiness Leadership Summit (www.robobusiness.com).
Featured Product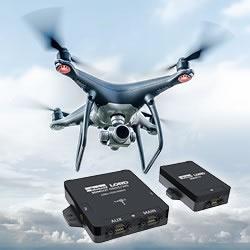 LORD Sensing, Microstrain manufactures the smallest and lightest industrial-grade inertial sensors available that are used in advanced manufacturing, off-highway vehicles, commercial and military manned and unmanned vehicles, and civil structures. Products come temperature compensated using a proprietary calibration process and include inclinometers, vertical reference units, IMUs, AHRS and INS/GPS for navigation, stabilization, mobile mapping, terrain compensation and more. Contact LORD for additional custom designed solutions.