November 15 Expo at the Edina Westin Hotel to Include Robotics Displays from PaR Systems, Adventium Labs, PRI Robotics, Stratasys, United Technologies, ReconRobotics and Others
EDINA, Minn. - (November 8, 2012) Robotics AlleyTM, the Midwest's leading robotics conference, has announced an exciting collection of interactive robotics displays for the Expo portion of the event on November 15. Attendees will be able to throw and drive the latest Throwbot XT reconnaissance robot from ReconRobotics, explore a high-speed industrial robotic cell from PaR Systems, watch revolutionary 3D printing technology from Stratasys, and get an up-close look at the Vireo Unmanned Aerial System from United Technologies. In addition, there will be experts on hand in the fields of robotics law, regional business development and policy, and STEM education.

"The Second Annual Robotics Alley Conference and Expo includes 18 internationally known speakers from every robotics perspective, including entertainment, military products, industrial production, international trade, medicine, and the law," said Andrew Borene, executive director of Robotics Alley. "In addition, the Expo allows attendees to talk to the experts in the field of robotics and see first-hand some of the most innovative robotics systems in the world. We invite anyone with an interest in this field to join us on November 15."
Robotics Alley Conference and Expo, November 15
ReconRobotics, Inc. and the Minnesota High Tech Association (MHTA) will host the Robotics Alley event on November 15 at the Westin Hotel in the Edina Galleria. Attendees will learn how companies are leveraging robotics technology to improve productivity and enter new markets, and how regional and national governments are generating thousands of new jobs as the robotics industry continues its global expansion.
About Robotics Alley
Robotics Alley (www.roboticsalley.org) is an industry‐led cluster initiative meant to spur public‐private partnership in the business, research and development of world‐leading robotics and automation systems. Robotics Alley hosts an annual conference & exposition in Minnesota's Twin Cities that is on pace to become one of the world's leading conferences on robotics and automation.
Featured Product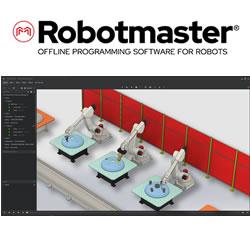 Robotmaster delivers unmatched, full-function off-line programming capability for robots - easy programming of precise robot motion control and quick generation of path trajectories of any size, with minimal programmer intervention. Our strong background in CAD/CAM (Computer Aided Manufacturing) software has enabled us to bring a revolutionary approach to programming industrial robots.