Independent healthcare research firm KLAS reports RIVA is highest-rated system in every category studied
WINNIPEG, Manitoba--RIVA, the fully automated IV compounding system manufactured by Intelligent Hospital Systems (IH Systems), is ahead of competitors in overall performance, meeting business case expectations and customer satisfaction, according to a new study of IV automation systems by independent healthcare research firm KLAS.

The study, "U.S. IV Automation: Robots and Workflow Solutions in 2012," examined five pharmacy automation systems, including RIVA and its leading competitors. The report found that RIVA's initial data scores were highest among all the systems studied. RIVA technology also received high marks for having needed functionality, being ready for widespread industry use and customers that would buy it again. Significantly, RIVA was the only IV automation system in the study to have all customers report it was meeting or exceeding anticipated ROI.
"Safety reduces costs, and RIVA provides hospitals with a very high 'safety dividend' that is a unique and invaluable aspect of its ROI," said Dr. Niels Erik Hansen, president and CEO of Intelligent Hospital Systems. "RIVA's technology has been engineered to prevent human error, which is the most common source of medication contamination and can have tragic results as evidenced by the recent meningitis outbreak."
From a purely financial perspective, RIVA's ability to help hospitals and pharmacies reduce costs also has been well documented. The technology allows users to lower the cost-per-dose of medication, reduce the need for outsourcing and decrease waste. The system's strong business case was confirmed by RIVA users that participated in the KLAS study: the report found that all RIVA customers said they were realizing their ROI, and "several indicated they were doing better than they had expected."
The KLAS study also highlighted a national trend toward automation which suggests RIVA is well-positioned for substantial growth. The report found more than 90 percent of organizations with more than 500 beds anticipate purchasing a robotic system (one component of RIVA is a robotic arm), most within the next five years. Importantly, among the systems providers are considering, KLAS found that "RIVA leads in mindshare."
"RIVA sets a new standard in patient safety that hospitals and pharmacies around the world recognize as the future of medication preparation," Dr. Hansen added. "The KLAS study provides further validation that RIVA is leading the way to enhanced safety, reduced costs and increased efficiency."
Earlier this year, IH Systems reached a significant milestone when RIVA systems globally had collectively prepared more than 1 million doses of medication safely and accurately since its introduction in 2008. The system's safety record has been demonstrated by more than 50,000 routine quality control checks at 27 RIVA installations that have found no contamination in compounds produced by the machines. The milestone was especially notable in light of the deadly meningitis outbreak linked to pharmacy mixture contamination, which RIVA technology is designed to prevent.
IH Systems will be providing demonstrations of how RIVA performs complex compounding processes for IV syringes and bags at booth 645 at the American Society of Health System Pharmacists (ASHP) conference, Dec. 2 - 6 in Las Vegas.
KLAS report citation: "U.S. IV Automation: Robots and Workflow Solutions in 2012," October, 2012. © 2012 KLAS Enterprises, LLC. All rights reserved. www.KLASresearch.com.
About Intelligent Hospital Systems
Founded in 2006, Intelligent Hospital Systems (IH Systems) is a medical device company focused on the design and development of automated solutions for the hospital environment. Based in Winnipeg, Manitoba, IH Systems manufactures RIVA, a fully automated IV compounding system that prepares medications for syringes and IV bags in an aseptic environment. Using RIVA, hospitals enhance patient safety, lower the cost-per-dose of medications, reduce their vulnerability to medication shortages and cut waste. For more information, visit http://www.intelligenthospitals.com/.
Featured Product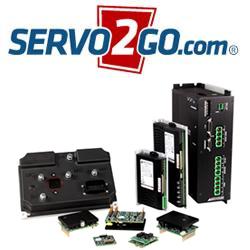 Engineered to drive brushless and brush servomotors in torque, velocity or position mode, Servo2Go.com offers a broad selection of servo drives in a wide range of input voltages and output power levels.