AeroVironment™ secures exclusive rights to distribute larger, higher flying, longer endurance vertical takeoff and landing (VTOL) unmanned aircraft system (UAS) in United States, NATO and other countries----- AeroVironment will invest up to $3 million in CybAero convertible notes----- Agreement expands AeroVironment family of unmanned aircraft systems capabilities beyond hand-launched category to address market requirements
MONROVIA, Calif.--AeroVironment, Inc. (NASDAQ: AVAV) today announced it has entered into a strategic relationship with Sweden-based CybAero AB (NASDAQOMXS: CBA) to develop and distribute a Tier II vertical takeoff and landing (VTOL) unmanned aircraft system in response to unmet requirements from multiple customers. The relationship gives AeroVironment exclusive rights to provide CybAero AB systems to United States customers and to government customers in NATO and other countries. AeroVironment has agreed to purchase up to $3 million in convertible notes from CybAero to facilitate the company's growth.

United States military customers typically segment the numerous types of unmanned aircraft systems they employ by size, weight, endurance and range into different tiers. Man-portable, hand-launched systems such as AeroVironment's RQ-11B Raven®, RQ-20A Puma® AE and Wasp® AE that weight less than 20 pounds comprise the Tier I segment. Tier II UAS include heavier, larger and longer endurance systems with longer range, such as CybAero's VTOL offering. Tiers III and IV include air vehicles of increasing size, capable of even longer endurance and range and requiring larger support teams and infrastructure requirements.
"CybAero is a pioneer and leader in the Tier II VTOL market. Our joint team has demonstrated this reliable, cost-effective Tier II UAS solution that will build on AeroVironment's family of small UAS, expanding our customer offering," said Roy Minson, AeroVironment senior vice president and Unmanned Aircraft Systems general manager. "With its significantly greater endurance and payload capacity, small footprint and ease of use, this new system will join our family of UAS and deliver a robust vertical takeoff and landing capability to current and new customers seeking that Tier II solution."
"We are working with CybAero to integrate their product into our system solution and will invest to add critical capabilities required to bring the most competitive offering to market," Minson added.
AeroVironment and CybAero have been working together very effectively to incorporate capabilities required to meet the requirements of United States government and other customers.
"AeroVironment is the clear leader in the man-portable, hand-launched UAS market, with an intimate understanding of customer operational requirements," said Leif Erlandsson, CybAero's chief executive officer. "We believe that AeroVironment possesses the experience, relationships and systems integration skills to bring all the benefits of our VTOL system to customers in the United States and beyond. We look forward to continuing our work together to increase the safety and operating effectiveness of AeroVironment's customers."
About AeroVironment
AeroVironment is a technology solutions provider that designs, develops, produces, supports and operates an advanced portfolio of Unmanned Aircraft Systems (UAS) and electric transportation solutions. Agencies of the U.S. Department of Defense and allied military services use the company's electric-powered, hand-launched unmanned aircraft systems extensively to provide situational awareness to tactical operating units through real-time, airborne reconnaissance, surveillance and communication. Multiple government agencies have helped to fund the development and demonstration of Global Observer®, a hybrid-electric, stratospheric UAS designed to provide affordable, persistent reconnaissance and communication over any location on the globe. Switchblade™ is a loitering munition designed to provide a rapid, lethal, pinpoint precision strike capability with minimal collateral damage. AeroVironment's electric transportation solutions include a comprehensive suite of electric vehicle (EV) charging systems, installation and network services for consumers, automakers, utilities and government agencies, power cycling and test systems for EV developers and industrial electric vehicle charging systems for commercial fleets. More information about AeroVironment is available at www.avinc.com.
About CybAero
CybAero AB develops and manufactures autonomous, unmanned helicopter (called VTOL UAVs) and related sensor systems that can be adapted for both defense and civilian missions. CybAero formed in 2003 on the foundations laid in 1992 through a research collaboration between Linköping University and the FOI (Swedish Defence Research Agency). CybAero is now established as a leading global player in the VTOL UAV field. CybAero is headquartered at Mjärdevi Science Park in Linköping. The company is listed on NASDAQ OMX First North. Thenberg & Kinde Fondkommission, phone 08-545 84 500, is Certified Adviser.
Featured Product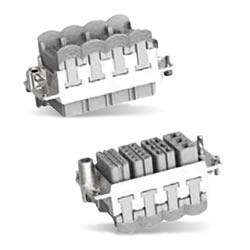 TE Connectivity's HDC Dynamic Module integrates the Dynamic series flexible signal and power solutions and the HDC Heavy Duty Connector series to form a solution of harsh environment connectors. TE's HDC Dynamic Module offers the top features of the two series. It uses the contact concept of the Dynamic series, with its proven performance in industrial uses and its cost effectiveness compared to legacy cutting contacts. The HDC connectors make the module a reliable solution for harsh environments. TE's HDC Dynamic Module supports 2A/32V to 40A/300V performance and 3 positions to 48 positions.