ALDEBARAN Robotics, a world leader in humanoid robotics, has equipped over 200 secondary schools worldwide with its NAO robot. In order to increase pupil interest in science, technology, engineering and mathematics (STEM), the company has introduced the humanoid robot into Warwickshire-based schools in the UK, amongst other educational institutions worldwide.
(Paris, November 22, 2012) ALDEBARAN Robotics is a global leader in humanoid robotics and an academic partner (of some of the most prestigious universities, schools and laboratories. The company has equipped over 200 secondary schools worldwide, including establishments across the UK, with its first NAO robot, the most-used humanoid robot within education globally.

NAO is a fully programmable, 58cm-tall humanoid robot with a sensor network that includes cameras, microphones and pressure sensors, as well as a voice synthesiser and two high-fidelity speakers.
Thanks to NAO, teachers across Warwickshire are embracing this new, more tangible way of educating that helps to increase student interest and engagement, consequently enhancing teaching in science, technology, engineering and mathematics (STEM), as well as in robotics.
John Pinkney, consultant at Warwickshire Local Authority ICT Development Service, explains, "So far this year we have worked with thousands of students looking at robotics. NAO captures the imagination of young people and provides a broad range of learning opportunities. The combination of this powerful technology and the creative minds of young people is very exciting and one which will have a real impression on teaching and learning."
Warwickshire Local Authority ICT Development Service is promoting NAO's pragmatic and entertainment benefits for teaching by introducing robotics into primary and secondary schools, as well as specialised institutions.
King's High School for Girls in Warwick received advice from Warwickshire Local Authority ICT Development Service regarding setting up a course programme around NAO that gives students the possibility of learning by using tomorrow's technology.
Pat Prance, Head of ICT at King's High, says, "NAO has brought renewed challenge and excitement to our ICT curriculum and has given students access to cutting-edge technology. The flexibility of the Choregraphe software allows all students to develop their programming skills whatever their starting point. Seeing their programs come to life through NAO gives them strong motivation and the opportunity to express their creativity. It has also opened students' eyes to the possibilities presented by an expanding area of ICT."
Choregraphe is the programming software that allows NAO users to create and edit a robot's movements and interactive behaviour. NAO's user-friendly software enables teachers to approach programming in an entertaining way, while illustrating abstract concepts, and explaining mathematical theorems and principles in physics, electronics and ICT.
Antony Lovedale, Managing Director of Active Robots and UK Distributor of NAO, explains, "Technology has reached the point where robots are becoming a close reality in our daily lives. ALDEBARAN Robotics is leading the way in worldwide research, state-of-the-art robotics, and teaching aids that are becoming commonplace in progressive universities and schools worldwide. We are excited by the opportunities NAO represents to advance robotics within UK schools, higher education and research."
Bruno Maisonnier, ALDEBARAN Robotics Founder and Chairman, says, "With NAO in schools, students are faced with tangible applications in innovation. A humanoid robot is packed with the latest technology, bringing together the most avant-garde science and techniques. We should applaud this raising of awareness led by schools throughout the world."
From December 2012, ALDEBARAN Robotics will also provide teachers with content that is suitable to their course programme. The company will offer a turnkey solution complete with a new product, the NAO Ankle Kit. This NAO sub-assembly will help the detailed study of the mechanical and electronic functioning of this humanoid robot's ankle.
About ALDEBARAN Robotics
Founded in 2005 by Bruno Maisonnier and now established in China, France and the US, ALDEBARAN Robotics designs, produces and sells humanoid robots in order to contribute to humankind's well-being. There are currently over 3,000 units of the first NAO robot operating within laboratories and universities in over 70 countries worldwide to serve research and teaching. ALDEBARAN Robotics has a team of 230 people, 40% of whom are engineers and doctors, involved in developing and producing its robots. For further information about ALDEBARAN Robotics, please go to: www.aldebaran-robotics.com/en
Featured Product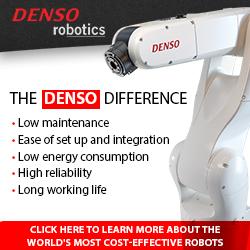 DENSO is the world's largest manufacturer - and user - of small assembly robots, employing over 17,000 of its robots in its own facilities. Over 77,000 additional DENSO robots are used by other companies worldwide. The compact, high-speed robots are used in traditional manufacturing sectors, as well as in advanced-technology applications in the medical, pharmaceutical and life sciences industries. Learn more about DENSO Robotics