HOUSTON--Quantum International Corp. (OTCBB: QUAN) CEO Robert Federowicz issued the following open letter to shareholders today highlighting the company's achievements in 2012 and looking ahead to promising opportunities in 2013:

Dear Shareholders,
2012 was an exciting year for Quantum International Corporation. With the robotics industry being capital intensive and new directions emerging every day, we are extremely optimistic with the initial strides.
Industry analysts GIA forecast that the global service robotics market will Reach $38.42 billion by 2015, and Quantum is moving aggressively to capitalize on that growth. This year, we've engaged several international partners to grow our company, by signing LOIs with the renowned Polish Institute of Industrial Automation (PIAP) and Canada's Clelland DataSciences from Canada (CDS). Both companies have extensive military and civilian applications of their proprietary robotics technologies.
Our plans for 2013 call for diversification. We will continue to pursue opportunities in the robotics and automation industries, with a focus on personal assistance robots. With the smartphone and tablet computer becoming as common as the wrist watch, we will continue to find opportunities to integrate these devices with robots and other home automation systems. Other plans include the funding of R&D of technologies that compliment the smartphone and tablet markets, making them better suited as laptop or netbook replacements for tasks that call for simplicity and convenience of use.
We are looking forward to your continuing support as we plan an exciting year for QUAN and our shareholders in 2013. With the demand for robotics and automation in our everyday, busy lives on a steady rise, this company is positioned to accelerate its growth to become a significant player in this market.
Robert Federowicz
About Quantum International Corp.
Quantum International Corp. (OTCBB: QUAN) is a robotics innovation company working to commercialize the next generation of sophisticated, automated technology. The Company is positioning itself to develop, deliver and market the most cutting-edge innovations in robotics in order to leverage the worldwide demand for the precision, speed, and cost-effectiveness these technologies offer.
Featured Product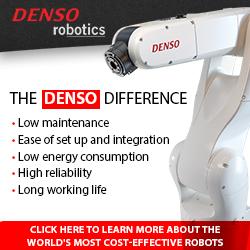 DENSO is the world's largest manufacturer - and user - of small assembly robots, employing over 17,000 of its robots in its own facilities. Over 77,000 additional DENSO robots are used by other companies worldwide. The compact, high-speed robots are used in traditional manufacturing sectors, as well as in advanced-technology applications in the medical, pharmaceutical and life sciences industries. Learn more about DENSO Robotics