Willow Garage and Spirit AeroSystems join the ROS-Industrial Consortium, which is led by Southwest Research Institute.
San Antonio - Dec. 12, 2012 - Southwest Research Institute announces the charter members of the ROS-Industrial™ Consortium (RIC). Willow Garage and Spirit AeroSystems are the first regular members of RIC-Americas, while Fraunhofer-IPA is leading a European branch of the consortium in collaboration with SwRI.

SwRI initiated the ROS-Industrial program to enable new applications and reduce project costs associated with industrial robotics and automation. ROS-Industrial, a free, open-source, BSD-licensed software library, extends the advanced capabilities of ROS (Robot Operating System) beyond the personal and research robotics arenas.
"We are excited to see ROS capabilities, including intelligent manipulation, mobility, perception and grasp planning, finding their way into the industrial domain," said Sachin Chitta, manager of the Autonomous Mobile Manipulation group at Willow Garage. "ROS is intended to be a platform for building capabilities and applications and we are interested in seeing new products and companies established as a result of this program."
"RIC is a precompetitive commercial collaborative research association, providing value to its members through training, technical support and cost-shared focused technical projects," said Paul Evans, director of the Manufacturing Systems Department at SwRI. RIC full membership is set at $10,000, with lesser levels of membership available (see membership table). "RIC will accelerate the development of ROS-Industrial.
"With broad implementation of ROS-I, we expect using the common software language will reduce integration costs and fuel growth in advanced manufacturing," he continued. "Industrial automation could enjoy the same exponential rate of progress as computers and mobile devices do today."
"As one of the world's largest non-OEM designers and manufacturers of aerostructures for commercial aircraft, we are committed to constantly improving the efficiency and quality of our manufacturing," said Curtis Richardson, Associate Technical Fellow at Spirit AeroSystems. "We are excited to be part of the ROS-Industrial Consortium and optimistic about the new capabilities of open source software for industrial automation. We have been pleased with the capability to do on-the-fly path planning in preliminary evaluations for dynamic applications such as painting. Our participation in the consortium will enable us to further leverage collective efforts to bring advanced solutions to our manufacturing processes."
"As the lead for the upcoming ROS-Industrial Consortium in Europe, Fraunhofer-IPA is looking forward to a fruitful collaboration to grow the capabilities of ROS-Industrial by bringing the perspective of Europe's industry leaders," said Prof. Alexander Verl, head of the German organization known for its expertise in manufacturing technologies. Fraunhofer hosted a ROS-Industrial workshop at its facilities in October.
SwRI anticipates commencing RIC activities in early 2013 with a meeting at the SwRI headquarters in San Antonio, Texas.
For more information about the ROS-I, contact Paul Evans at (210) 522-2994 or pevans@swri.org or visit ROSindustrial.swri.org.
------------------------------------------------
About SwRI:
SwRI is an independent, nonprofit, applied research and development organization based in San Antonio, Texas, with more than 3,000 employees and an annual research volume of more than $564 million. Southwest Research Institute and SwRI are registered marks in the U.S. Patent and Trademark Office. For more information about Southwest Research Institute, please visit newsroom.swri.org or www.swri.org.
Featured Product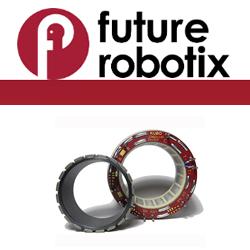 Less expensive direct replacements for RoboDrive motor kits with higher torque density, hollow shaft, low power-to-weight ratio, highest dynamics, exact linearity, low cogging torque. Available in sizes 38mm - 170mm. Available today at futurerobotix.com