One Firefly is a South Florida based design and engineering firm that is giving back to the local community by working with a local high school team as they compete in their rookie season with the FIRST Robotics Competition. One Firefly hopes to inspire other businesses to get involved through mentorship or corporate sponsorship with this great organization.
Hollywood, FL January 02, 2013

One Firefly LLC, a design and engineering firm based in Hollywood, Fla., is asking fellow designers, engineers and scientists to support a noble cause and act as FIRST mentors for South Florida youth interested in science and technology. One Firefly joins Best Buy Aventura and The On It Foundation by committing resources and staff to support a local Hollywood High School as they prepare to compete in the FIRST Robotics Regional Competition to be held in Fort Lauderdale, Fla. in March 2013. "I am excited to help our young people solve problems and enable them to experience the fun and excitement that can be had through a career in science and engineering," said Ron Callis Jr., chief executive officer at One Firefly. "I love what FIRST stands for and have backed this up with our company's sponsorship and commitment of resources."
FIRST, an organization devoted to "helping young people discover and develop a passion for science" through competition, engages youth of all ages by employing tactics utilized in sports - youth are grouped into teams, paired with professional coaches, given pieces and parts to build robots and then allowed to compete in big arenas against teams from across the world.
According to Dean Kamen, founder of FIRST, the purpose behind creating FIRST was "to break the stereotypical mindset given to kids about what's important in their culture … let these kids, that have never met a scientist or a professional engineer, see what these people do." This is exactly why Callis, a degreed mechanical engineer, is enlisting the help of others to get involved with this great cause. "I was fortunate," said Callis, "I had an innate interest in science and engineering since I was very young and was fortunate to be exposed to several fantastic mentors who helped guide me. Our goal at One Firefly is to now offer this same level of mentorship to the next generation."
"I am excited that we have been partnered with 'Team On It' for the 2013 Season. Calvetta Phair runs stellar organization at The On It Foundation, where there mission to provide technology resources and education to low-income families," said Callis. "2013 will be our rookie season and hopefully the first of many to come."
Participants of FIRST competitions compete for a place in the annual World Championship competition as well as millions of dollars in scholarships and awards. For more information on how to become a mentor or sponsor for Team On It!, please contact Calvetta Phair of The On It Foundation at 305-244-6454 or Toll Free +1 855.545.ONIT (6648).
About One Firefly LLC
One Firefly, LLC is the parent company to three business Units, each offering a unique selection of services geared around the custom electronics industry. Firefly Design Group is the leading design, engineering and consulting firm specializing within the integrated building technology space. Firefly Programming is a full service control system programming company specializing in Crestron and Prodigy technology solutions. Firefly Creative is a full service marketing and public relations agency that caters to the custom electronics industry's member contractors and manufacturers. One Firefly, LLC is based in Hollywood/Fort Lauderdale, Florida with additional offices in Mexico and has been operating since 2007. For more information about One Firefly LLC, visit http://www.onefirefly.com.
About FIRST
Accomplished inventor Dean Kamen founded FIRST® (For Inspiration and Recognition of Science and Technology) in 1989 to inspire an appreciation of science and technology in young people. Based in Manchester, N.H., FIRST designs accessible, innovative programs to build self-confidence, knowledge, and life skills while motivating young people to pursue opportunities in science, technology, and engineering. With support from three out of every five Fortune 500 companies and nearly $15 million in college scholarships, the not-for-profit organization hosts the FIRST®Robotics Competition (FRC® ) and FIRST®Tech Challenge (FTC® ) for high-school students, FIRST®LEGO® League (FLL® ) for 9 to 14-year-olds, (9 to 16-year-olds outside the U.S. and Canada) and Junior FIRST®LEGO® League (Jr.FLL®) for 6 to 9-year-olds. Gracious Professionalism™ is a way of doing things that encourages high-quality work, emphasizes the value of others, and respects individuals and the community. To learn more about FIRST, go to http://www.usfirst.org.
About The On It Foundation:
The On It Foundation (Opportunities Necessary to Increase Technology) is a 501(c)(3) public non-profit whose Mission provides free technology resources, computer training and internet access to underprivileged children of low-income families in grades K-12 that receive a free or reduced school lunch, attend a public school and reside in the United States. The On It Foundation was founded in November 1999 and is nationally focused, headquartered in Miami, Florida. For more information about The On It Foundation, visit http://www.TheOnItFoundation.org.
Featured Product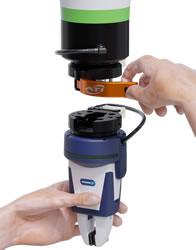 Simpler, stronger, and more precise. ATI Industrial Automation has developed a series of Manual Tool Changers that provides a cost-effective solution for quickly changing tools by hand. They feature a unique design that combines high strength, excellent repeatability, and a patent-pending screw-cam locking mechanism with multiple fail-safe features, which resists vibration and prevents loosening. These robust and compact Manual Tool Changers can handle payloads up to 80 pounds (36 kg) and pass pneumatics and electrical signals.