Electra Studios President Dan Kara and Robotics Trends General Manager Richard Erb accept positions
FRAMINGHAM MA - JANUARY 17, 2013 - EH Publishing, producers of the annual RoboBusiness Leadership Summit and Expo are pleased to announce Dan Kara and Richard Erb as the co-chairmen of the 2013 Conference Program. The event will take place at the Santa Clara Convention Center October 23-25, 2013. Dan and Richard are actively recruiting Advisory Council members to contribute to the overall content. A Call for Speakers is currently open, more information can be found here . The conference program will continue to focus on accelerating the commercial advancement of robotics technologies and solutions.

Half Day Workshop topics will include:
*Robotics In Agile Manufacturing
*Robotics Hospital Automation
*Personal Robotics Summit
*Robotics Operating Systems
*Robotics Design and Development Tools
Conference Tracks will be broken down into (4) categories:
*Business Development & Investment
*Technology & Product Development
*Applications and Markets
*Materials Handling
Dan Kara is President of Electra Studios, a new start-up providing educational and research robotics products and services, which are supported and augmented by integrated media offerings. He is also analyst-at-large for Robotics Business Review where he focuses on robotics research, emerging technologies and vertical market segments exploiting robotics technology. Prior to founding Electra Studios, Dan was President and Co-Founder of Robotics Trends, an integrated media and research firm that publishes RoboticsTrends.com and Robotics Business Review. He was also developer and chairman of the RoboBusiness Conference and Exposition series, the RoboDevelopment Conference and Exposition series, the RoboNexus Conference and Exposition series, and the CES Robotics TechZone. Dan has also worked as Executive Vice President of Intermedia Group, VP of Advanced Information Technology Research at Sentry Group, Director of Research at Ullo International, and Chief Technical Officer of Software Productivity Group.
Richard Erb has more than 10 years of experience organizing face-to-face events in the telecom, information technology and robotics industries. Richard is General Manager of Robotics Trends, a division of EH Publishing, Inc. Previously, as Vice President of International Events, Erb lead efforts to launch VON (Voice on the Net) events in Mexico, Sweden, Germany, Italy, Israel, Russia, Japan and China. Richard has extensive experience creating revenue and building content programs for traditional and hosted-model face- to-face events. In his current position with Robotics Trends, Erb has been a catalyst for building community, introducing and organizing online events, and building the flagship RoboBusiness physical event into a world-class robotics business, technology and applications-focused executive networking conference and exposition.
ABOUT EH EVENTS
EH Events is an award-winning producer of exhibitions, conferences and other innovative events that connect buyers and seller and provide the information, education and inspiration to move markets forward. For more information about EH Events or the RoboBusiness Leadership Summit, please contact Terry Weise at twiese@ehpub.com or 508-663-1500 Ext.305
Featured Product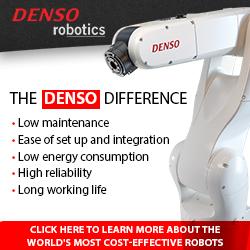 DENSO is the world's largest manufacturer - and user - of small assembly robots, employing over 17,000 of its robots in its own facilities. Over 77,000 additional DENSO robots are used by other companies worldwide. The compact, high-speed robots are used in traditional manufacturing sectors, as well as in advanced-technology applications in the medical, pharmaceutical and life sciences industries. Learn more about DENSO Robotics