Enables Warfighters to manage multiple mission systems through a single end-user device
Reston, VA- QinetiQ North America (QNA) today introduced its Integrated Warrior System™ (IWS), an innovative technology solution that enables Warfighters to manage multiple mission systems through a single end-user device, such as a smartphone, tablet or other tactical computer.

IWS increases situational awareness and improves access to critical mission resources by creating a personal area network for the Warfighter. With IWS, the Warfighter can plug-and-play a wide variety of peripherals such as smartphones, computers, mission critical software applications, gunfire detection systems and much more through a lightweight, wearable hub.
IWS supports seamless operations by integrating data and power from diverse systems. Its simplified battery power management solution ensures that each connected device can operate reliably and efficiently in remote or hostile areas. This ergonomic system can be easily integrated into legacy vests and helmets, and its universal design accommodates peripherals from multiple manufacturers.
"Modernization initiatives have sought to integrate electronics and sensors on the Warfighter ensemble without adding extra equipment and weight," said QNA's Technology Solutions Group President J.D. Crouch. "IWS is a sleek, rugged solution that easily integrates commercial and military devices through an open architecture that is designed to support today's Warfighter."
With applicability across the operational, mission rehearsal, and training and simulation domains, IWS is a total customer solution with scalable hardware, software, accessories and systems integration support.
IWS will be on display through January 30, 2013 at QinetiQ North America's Soldier Tech Expo Booth 3 at the Crystal Gateway Marriott in Arlington, VA. For more information, visit http://www.qinetiq-na.com/iws.
QNA's innovative technology responds to key challenges facing the U.S. military, with cost effective, reliable solutions that can be easily integrated on manned and unmanned vehicles, aircraft and soldiers.
Part of QinetiQ Group plc's Global Products division, QNA's Technology Solutions Group is a world leader in technology solutions that save lives in defense, security and commercial environments.
For more information, visit www.QinetiQ-NA.com, read our blog at techblog.qinetiq-na.com, and follow us on Facebook at www.facebook.com/survivability or Twitter at www.twitter.com/qinetiqsurvival.
About QinetiQ North America
QinetiQ North America (QNA) is a subsidiary of QinetiQ Group plc, the FTSE250 company listed on the London Stock Exchange (LSE:QQ.L). Operating in North America, QNA delivers world-class technology, responsive services, and innovative solutions for global markets, focusing on U.S. government and commercial customers. Its engineers, scientists and other professionals deliver high quality products and services that leverage detailed mission knowledge and proven, reliable tools and methodologies to meet the rapidly changing demands of national defense, homeland security and information assurance customers. QNA is headquartered in McLean, Virginia. For more information visit www.qinetiq-na.com and join our conversation at www.facebook.com/qinetiqna.
Featured Product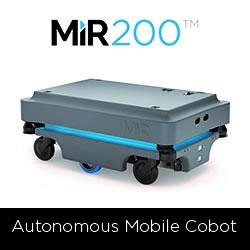 MiR200 is a safe, cost-effective mobile robot that automates your internal transportation. The robot optimizes workflows, freeing staff resources so you can increase productivity and reduce costs. MiR200 safely maneuvers around people and obstacles, through doorways and in and out of lifts. You can download CAD files of the building directly to the robot, or program it with the simple, web-based interface that requires no prior programming experience. With its fast implementation, the robots offers a fast ROI, with payback in as little as a year.