A3 Continues to Grow with the Addition of Four Employees
(Ann Arbor, Michigan, USA - January 30, 2013) - The Association for Advancing Automation (A3) announced today that four employees have recently joined the organization. They include:

• Bob Doyle, Director of Communications;
• Pat Davison, Director of Standards Development;
• Jackie Kazaleh, Marketing & Membership Manager; and
• Mandy Pawczuk, Administrative Assistant.
"We're thrilled to have these four talented individuals join the A3 team," said Jeff Burnstein, President of A3, a trade group representing some 650 companies from 32 countries involved in robotics, vision, and motion control technologies. "This is an exciting time for A3. As the membership of the associations we represent grows and the services we provide expand, our staff must also grow in order to meet the needs of our members."
Doyle will be responsible for all comprehensive communications efforts for A3. He has extensive experience in strategic communications planning, media relations, crisis communications and stakeholder relations. Before coming to A3, Doyle was marketing and communications manager at EQ - The Environmental Quality Company. Prior to that, he was an environmental engineer at General Motors. Doyle holds a B.S. in Environmental Engineering from Michigan Technological University, a M.S. in Engineering Management from Rensselaer Polytechnic Institute and a M.A. in Public Relations & Organizational Communication from Wayne State University.
Davison will lead the Robotic Industry Association's (RIA) development efforts for the ANSI/RIA R15.06 Safety Standard for Industrial Robots and Robot Systems. Before coming to A3, Davison spent nearly eleven years with NSF International, where he led protocol development efforts to create testing and evaluative methodologies required to certify products with unique or innovative performance or safety claims. Prior to NSF, he worked for FANUC Robotics North America, where he was a project manager in their Automation Systems Group. Davison holds B.S. and M.B.A. degrees from Michigan State University.
Kazaleh will be primarily focused on RIA and Motion Control Association (MCA) marketing and membership efforts. She has a background in creative conception, cross-promotional marketing campaign execution, international market and sales development and non-profit management. Kazaleh holds a B.A. in American and International Studies from Wayne State University. Before coming to A3, Kazaleh worked for exercise machine manufacturer NuStep, Inc., where she developed and managed a network of distributors to increase the company's brand awareness, global reach and international sales efforts. Prior to NuStep, Kazaleh was a Development Manager at the Juvenile Diabetes Research Foundation.
Pawczuk handles several administrative duties at A3, including managing publication sales and answering the phones. Pawczuk holds a B.A. in Written Communications with a discipline in Technical Communications from Eastern Michigan University, with a minor in English Language, Literature and Writing.
To reach, Doyle, Davison, Kazaleh, or Pawczuk call A3 Headquarters at (734) 994-6088, or e-mail boyle@A3automate.org, pdavison@robotics.org, jkazaleh@robotics.org or mpawczuk@robotics.org. You can also follow Doyle on Twitter @BobDoyle_A3.
A3 is the umbrella group for Robotic Industries Association (RIA), AIA - Advancing Vision + Imaging, and Motion Control Association (MCA). RIA, AIA, and MCA combined represent some 650 automation manufacturers, component suppliers, system integrators, end users, research groups and consulting firms from throughout the world that drive automation forward. For more information on A3, visit www.a3automate.org. For information on RIA, visit Robotics Online at www.robotics.org. For information on AIA, visit Vision Online at www.visiononline.org. For information on MCA, visit Motion Control Online at www.motioncontrolonline.org.
Featured Product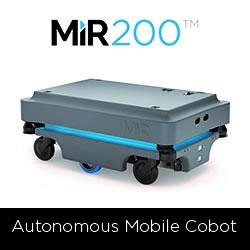 MiR200 is a safe, cost-effective mobile robot that automates your internal transportation. The robot optimizes workflows, freeing staff resources so you can increase productivity and reduce costs. MiR200 safely maneuvers around people and obstacles, through doorways and in and out of lifts. You can download CAD files of the building directly to the robot, or program it with the simple, web-based interface that requires no prior programming experience. With its fast implementation, the robots offers a fast ROI, with payback in as little as a year.