Carbon fiber solution enables use of smaller payload equipment
Clinton Township, MI, January 30, 2013 -- Bilsing Automation has recently proved out the value of its carbon fiber tooling solutions on a recent project where it saved an integrator over $2.7 million in robot investment by enabling use of smaller payload models. The project involved 18 robots that were unable to meet processing requirements when equipped with aluminum end-of-arm tooling.

Bilsing was able to design a 17' x 5' x 2' "H"-style NAAMS carbon fiber frame that reduced the tooling weight by half so that the robots had capacity to hold and move entire automotive body sides at required speeds and positioning. Prior to Bilsing's solution, the company was looking at potential investment in larger robots that were over two times the cost.
In this particular scenario, the robots in question had a payload capacity of 400 kg (1,072 lbs) and the body sides weighed approximately 165 kg (442 lbs). Although the robots had capacity for the combined weight of the aluminum tooling and the workpiece, the inertia load (forces required for load acceleration/ deceleration) failed in many instances. By using carbon fiber, Bilsing was able to cut the tooling weight in half for a combined weight of 288 kg (635 lbs.).
"This application illustrates the great ROI you can achieve using carbon fiber," said Bilsing Automation general manager Benjamin Pauzus, Jr. "Although initial investment is more expensive than steel or aluminum tubing stock - the costs, in this case, were immediately and dramatically offset by the savings achieved through a smaller robot model."
Pauzus is quick to point out that a project needn't be of this caliber for savings to be achieved through application of carbon fiber. Even a single-robot application would have achieved over $150,000 in savings. Additionally, carbon fiber tooling can help achieve productivity gains of up to 20-percent while helping to extend the service life of robots due to improved harmonics.
Another significant fact is that the carbon fiber "H" frames were developed to meet dimensional specification for bodyshop applications as designated for NAAMS (North American Automotive Metric Standards) and are able to interface with NAAMS-compliant components. Bilsing can match NAAMS requirements with a carbon fiber solution, resulting in a stronger and lighter solution for improved productivity.
Bilsing Automation North America is a subsidiary of Bilsing Automation GmbH (Attendorn, Germany), a global leader in the development and manufacturing of modular tooling systems for the pressroom, body shop and plastic molding applications in the automotive, food, packaging and glass industries. The company is focused on providing optimum product performance that results in cost reductions, supporting the customer through planning, design, engineering, assembly and commissioning. Bilsing Automation also offers 3D digital simulation and on-site training as part of its service offerings.
Featured Product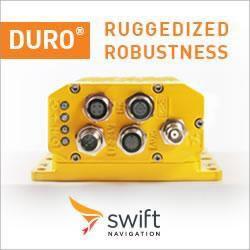 Duro® and Duro Inertial are enclosed dual-frequency RTK GNSS receivers. Designed and built to survive long-term, outdoor deployments, the easy-to-deploy Duro and Duro Inertial combine centimeter-accurate positioning with military ruggedness at a breakthrough price. Duro Inertial features an integrated IMU for continuous centimeter-accurate positioning in the harshest of outdoor deployments.