DistribuTECH (Booth #1533) -- FreeWave Technologies, manufacturer of the most reliable, high-performance spread spectrum and licensed radios for critical data transmission, is exhibiting at DistribuTECH 2013 and is showcasing its award-winning, reliable wireless communication solutions for automation applications in utility markets.
Along with valued partner, Power Delivery Products, Inc., FreeWave will be demonstrating a state-of-the-art fault circuit sensor application solution that is becoming a vital asset for electric power utilities and cooperatives worldwide. Today, FreeWave also is announcing a new installation with Hawaiian Electric (see today's news release "Hawaiian Electric Company Chooses FreeWave. . .").

"Automation demands in the utility and energy markets have never been so prevalent," explained Ashish Sharma , chief marketing officer, at FreeWave Technologies. "As service providers are being tasked to do more with less, especially in marketplaces with increased pressure to provide uninterrupted service 24x7, FreeWave is dedicated to meeting this need by providing the most dependable, highest quality wireless communication solutions in the market today."
At FreeWave's booth (#1533), attendees can view its industry-leading wireless communication solutions for both the electric power and water/wastewater markets. In addition to its award-winning FGR2-PE data radio (http://www.freewave.com/products/allproducts/fgr2pe.aspx) and IO Expansion module (http://www.freewave.com/products/allproducts/ioexpansion.aspx), the company will showcase additional serial, I/O and Ethernet communication solutions for both licensed and spread spectrum (unlicensed) data transmission. Furthermore, FreeWave will display a suite of existing and forthcoming Federal Information Processing Standard (FIPS)-certified solutions, aimed at providing customers with the utmost in secure, reliable wireless communication solutions.
Together with its partner (Power Delivery Products in booth #1529), FreeWave will demonstrate a fault circuit indicator (FCI) application solution by connecting its FGR2-PE wireless data radio to Power Delivery Products' Smart Navigator Sensor FCI product. Electric power utilities that aim to reduce the duration of power outages and improve customer service will benefit from this innovation. Also at FreeWave's booth, attendees have a chance to win a new 750 gigabyte external hard drive each day of the event by entering into the company's random drawing. FreeWave also will present a new 16 gigabyte iPad to a lucky winner during an evening reception on January 30th during the event.
Source: http://www.freewave.com/
Featured Product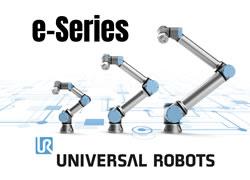 With the new e-Series cobot line, Universal Robots raises the bar for cobots, adding unique new features while significantly strengthening the four core principles defining collaborative robots: fast set-up, easy programming, flexible deployment, and safe operation. With a new built-in, tool-centric Force/Torque sensor the e-Series is ready to take on applications requiring force control right out of the box. A repeatability of 30 micron means the new cobots are suitable for very precise finishing, assembly and electronics tasks. A re-designed user interface decreases cognitive load and expedites program development, while a new externally accessible, 500Hz system bus enables more complex motion control algorithms or profiles.