FIRST Appoints New Personnel in Louisiana, New Hampshire, Vermont, Virginia, Washington D.C., and Alberta, Canada to Grow and Manage Robotics Programs
MANCHESTER, N.H.--FIRST® (For Inspiration and Recognition of Science and Technology), a not-for-profit organization founded by inventor Dean Kamen to inspire young people's interest and participation in science and technology, today announced new personnel appointments for its Field Operations in the U.S. and Canada. The new regional personnel will assist in the local growth of all four robotics programs that make up the FIRST Progression of Programs designed for K-12 in Louisiana, New Hampshire, Vermont, Virginia, Washington, D.C and Alberta, Canada.

"Our Regional Directors and Assistant Regional Directors will promote the passion and inspiration for science, technology, engineering, and math (STEM) exploration among the youth in their communities," said Roseann Stevens, Vice President of Field Operations, FIRST. "The FIRST Field Staff is a city, state or region's direct link to the mission of FIRST and the catalyst for parents, schools, Mentors, and the business community to bring the advantages of FIRST to their areas. They see to it that 'rookie' and 'veteran' teams alike on area robotics teams gain the skills and confidence from a real-world, hands-on, problem-solving technical challenge working side-by-side with professional engineering Mentors. These professionals help to seed the ideas to an exciting education and career path that students may not have considered or thought possible."
The role of a Regional Director at FIRST includes coordinating local robotics events and activities as well as developing new regional corporate partnerships and engineering Mentors and Coaches - with the goal of creating and maintaining robust, Volunteer-driven, and self-sustaining FIRST robotics programs in each region.
FIRST holds local and regional robotics competitions for K-12, including the FIRST ® Robotics Competition (FRC®) for high school students, the FIRST ® Tech Challenge (FTC®) for middle school and high-school students, the FIRST ® LEGO® League (FLL®) for middle school students, and the Junior FIRST ® LEGO® League (Jr.FLL®) for K-3. Currently, FIRST participation in the US includes over 300,000 students in K-12.
New FIRST appointments include:
*Carolyn Arthurs, Regional Director, Louisiana - Carolyn has been involved with FIRST since 2001 when she served as a Regional Event Manager. Her wealth of experience in special events management has included jazz festivals and park openings.
*Mark Critz, Regional Director, New Hampshire and Vermont - Mark has been affiliated with FIRST for more than two years as the Project Manager for the FIRST Green e-watt saver program. He spent 33 years at the Ford Motor Company and Visteon Corporation in Engineering and Production Operations.
*Carol Edelman, Assistant Regional Director and Director, Program Development, VirginiaFIRST - Carol has been involved with all facets of FIRST for over 12 years. She has served as a key Volunteer and a FIRST team Mentor for many years.
*Suparna Mukherjee - Regional Director, Washington, D.C. - Suparna has a strong background in engineering project management, system integration, and planetary robots. She has served as the FIRST® Tech Challenge (FTC®) Affiliate Partner in Los Angeles since 2008.
*Blair Gallant, Regional Director, Alberta, Canada - Blair has been an entrepreneur since the age of 12, founding a series of Canadian chain stores and a land development company. After his retirement from the retail industry, he started the AO Shirley non-profit for FIRST.
About FIRST®
Accomplished inventor Dean Kamen founded FIRST® (For Inspiration and Recognition of Science and Technology) in 1989 to inspire an appreciation of science and technology in young people. Based in Manchester, N.H., FIRST designs accessible, innovative programs to build self-confidence, knowledge, and life skills while motivating young people to pursue opportunities in science, technology, and engineering. Over 200 of the Fortune 500 companies support FIRST. FIRST offers more than $16 million in college scholarships, and hosts the FIRST® Robotics Competition (FRC® ) for students in Grades 9-12; FIRST® Tech Challenge (FTC® ) for Grades 7-12; FIRST® LEGO® League (FLL® ) for Grades 4-8; and Junior FIRST® LEGO® League (Jr.FLL®) for Grades K-3. Gracious Professionalism® is a way of doing things that encourages high-quality work, emphasizes the value of others, and respects individuals and the community. To learn more about FIRST, go to www.usfirst.org.
Featured Product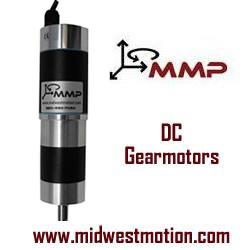 Midwest Motion Products, Inc. (MMP), is a well-established, healthy, & growing Family Owned Business, founded in 2001. MMP specializes in cost-effective standard DC Gearmotors, Motors, Controls, and ancillary equipment. Known world-wide for our "Lightning Fast" delivery capabilities, you can have a Standard Planetary or Right Angled DC Gearmotor BUILT and SHIPPED, often on the very same day you call. Offering Brushed and Brushless designs, with winding voltages ranging from 12 VDC to 120 VDC, we can deliver your "Robust & Reliable" samples within HOURS, instead of weeks, or even months.