Deal Firms Up Saebo's Position as All Inclusive Rehabilitation Provider
Charlotte, NC February 07, 2013

Saebo, Inc., a leading international provider of innovative rehabilitation technology, announced today that it has partnered with Canadian-based company, Rehabtronics, to become the exclusive distributor of the SaeboReJoyce in the United States, Australia and portions of Europe.
The SaeboReJoyce is a computerized upper extremity workstation designed to provide repetitive, simulated, self-care tasks in a fun and motivating environment. The functional joystick, called the Manipulandum, allows the client to perform game-like activities while challenging commonly used prehension patterns such as opening a door, turning a key, or picking up a coin.
The SaeboReJoyce builds on published research that shows that intensive, task-oriented therapy for a prolong period of time can improve recovery after a neurological injury. Saebo's unique NeuroGaming™ software facilitates user compliance and motivation and involves a range of task oriented games that test speed, endurance, coordination, range of motion, strength, timing and cognitive demand. To maximize recovery, the games are customizable and progressive to match the client's therapy needs.
In addition to performing task oriented therapy, the SaeboReJoyce also includes a fully automated, standardized upper limb test that takes approximately 5-10 minutes to administer and is highly correlated to commonly used neurological standardized assessments. Results are recorded and time stamped and can be exported or printed for analysis and documentation.
"Adding the SaeboReJoyce to our portfolio solidifies our goal of providing end-to-end solutions for individuals suffering from impaired upper extremity function. Regardless of the client's functional capabilities, our products can now address the full spectrum of upper limb recovery," stated Henry Hoffman, Saebo's Co-founder. "What makes the SaeboReJoyce so unique is the combination of practicing simulated functional gross and fine motor movements while engaging in fun and entertaining games. This will help drive neural changes by maintaining the client's motivation to comply with therapy while alleviating boredom that is often seen with traditional therapy options. "
The Saebo ReJoyce will be sold to all rehabilitation settings including acute rehabilitation hospitals, outpatient clinics and skilled nursing facilities. Al Guerra, Saebo's President stated "Rehab technology should be affordable and should make recovery easier for the patient. We believe that proposing robotic devices that cost hundreds of thousands of dollars alienates most clinics whose patients could benefit from rehab technology but could never afford it. With the SaeboReJoyce we are bringing high tech upper limb recovery to patients in all care settings. We've priced it to be within reach of even the smallest clinics. The SaeboReJoyce cements Saebo's role as the one stop shop for hand and arm recovery after a neurological injury."
About Saebo:
Saebo, Inc. is a global provider of innovative rehabilitation products for stroke survivors and other neurologically impaired individuals.
Headquartered in Charlotte, NC, the company was founded in 2001 by two occupational therapists specializing in neurological rehabilitation. Saebo's pioneering treatment protocols are based on new research documenting the brain's remarkable ability to "re-program" itself following injury. The company's neurological orthotic devices, SaeboFlex and SaeboReach, allow patients with very little residual hand function to forge new pathways in the brain to immediately begin grasping and releasing objects in high repetition exercises. Named Most Valuable Product in 2008 by Therapy Times, the SaeboFlex and SaeboReach are now offered at over 2,000 clinics and hospitals nationwide. Used within 22 of the "Top 25 Rehabilitation Hospitals" (U.S. News & World Report), Saebo products are eligible for reimbursement by Medicare and most commercial insurers. A network of over 7,000 Saebo trained clinicians, spanning four continents, is committed to helping stroke survivors around the globe achieve a new level of independence. For more information, visit http://www.Saebo.com or contact Al Guerra at aguerra@saebo.com.
Featured Product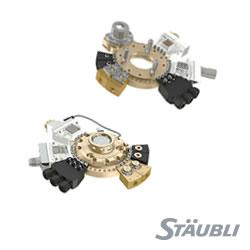 TX2 robots: redefining performance by offering collaborative safety and high performance in a single machine. These pioneering robots can be used in all areas, including sensitive and restrictive environments, thanks to their unique features. Safety functions are easy and inexpensive to implement. They allow a higher level of interactions between robots and human operators, while still guaranteeing protection of your people, production and investment.