May 7-8, 2013 at the Hilton Miami Downtown in Miami, Florida
WYOMISSING, PA (February 8, 2013)-- Applied Market Information, LLC (AMI) reveals the program for the Bioplastics Compounding & Processing 2013, the third in this series of high-level business conferences that takes place on May 7-8, 2013 at the Hilton Miami Downtown in Miami, Florida.

Bioplastics continue to draw huge attention from retailers, brand owners, and end users. This new class of polymer materials promises to play a key role in meeting consumer demand for more sustainable products that minimize environmental impact during manufacture, use and end-of-life. However, developing alternatives to today's established petrochemical-based plastics is no easy task.
The program for Bioplastics Compounding & Processing 2013 will explore the progress polymer and additive suppliers are making in adapting bioplastics to meet demanding end user requirements without sacrificing sustainability.
Day One includes four sessions. The first session will discuss bioplastics markets and drivers with presentations from Argo Group International and IBM. The second session will look at developing bioplastics for market requirements with presentations from Polyone Corporation, Braskem America, INC., and FKuR Plastic Corp.
Session 3 will explore the latest innovations in optimizing PLA performance and processing and includes presentations from Natureworks LLC, Purac Biochem BV, and Teknor Apex Company. Session 4 will highlight compounding and processing systems with papers from Coperion Corporation, Gneuss, INC., and B&P Process Equipment and Systems, LLC.
Day Two of the conference includes three sessions. Session 5 includes presentations detailing the growing bioplastics market from Lux Research and Beroe INC. Session 6 will investigate modification of bioplastics with presentations from the University of Mons - UMONS, Clariant, and DuPont De Nemours INTL S.a.r.l. The final session of the conference will examine future developments in bioplastics with presentations from SKZ-KFE GmbH and SK Innovation.
A table-top exhibition will run alongside the conference. This will allow companies to display their services and products to the highly targeted audience that will be attracted to Bioplastics Compounding & Processing 2013. All social gatherings, including the conference cocktail reception, will also be hosted in the Exhibition area.
The full conference brochure can be found at the following link:
http://www.amiplastics-na.com/events/Event.aspx?code=C513&sec=3100
For more information on attending or exhibiting at this event, contact Conference Coordinator, Stephanie Berchem, by emailing sb@amiplastics-na.com or by calling +1 610 478 0800.
Featured Product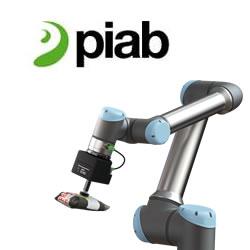 Piab's Kenos KCS gripper enables a collaborative robot to handle just about anything at any time. Combining Piab's proprietary air-driven COAX vacuum technology with an easily replaceable technical foam that molds itself around any surface or shape, the gripper can be used to safely grip, lift and handle any object. Standard interface (ISO) adapters enable the whole unit to be attached to any cobot type on the market with a body made in a lightweight 3D printed material. Approved by Universal Robots as a UR+ end effector.