While remote control and fully robotic lawn mowers have been on the market for years, Summit Lawn Mower Company has been raising the bar with heavy duty track driven units ideal for steep hills. Now with the release of the new TRX-60, that bar just went up another notch.
New Albany, MS February 11, 2013

To compliment their line-up of heavy duty robotic lawn mowers, Summit is introducing the TRX-60 as the largest in its class. With its large rubber track footprint combined with a low center of gravity, the TRX-60 is ideal for mowing hills too steep for traditional zero-turns. Owners of the smaller 34 and 42 inch hydros already enjoy the ability to navigate their machine on the steepest of slopes that no other piece of equipment will go. Now with a larger 60" deck, they are able to increase productivity on the larger and steeper slopes.
"We've listened to customer suggestions when designing this monster. Relocating the tracks behind the deck to be able to mow along fencing and other obstacles came as a direct result of customer feedback," said John Wright, designer of this new machine.
The TRX-60 now has a larger 10" wide rubber track behind the deck. Unlike the smaller 34 and 42 inch units with the tracks located beside the deck, the 60" gives the operator the option for side discharge, bagging, or mulching in addition to being able to cut closer to obstacles. Other new features include a larger fuel tank, sleek new body work, and a 25 HP twin cylinder engine paired with commercial hydro-static transmissions to allow the operator to put this machine on the steepest of slopes with ease.
In response to customer suggestions, Summit has incorporated several industry firsts. The most impressive being a self charging electrical system with a bank of 6V high torque motors to operate the engines throttle, choke, and dual transmissions. While the smaller TRX-22-SE electric driven model uses high current electronics, being able to use a low voltage maintenance free system to run the giant hydro models is truly state of the art.
With optional add-on features, customers are able to customize their mower to fit their specific needs. Adding the optional remote deck height adjustment is a popular upgrade with the elderly and disabled customers. Other options include video control to allow the operator to mow the lawn from indoors, snow plow, head lights, and just about anything one can imagine.
As with the TRX-34 and TRX-42, the TRX-60 also has a range of 300 ft., remote engine start-stop, remote control throttle, choke, and blade engagement, electronic fail safe. The transmitter has two joysticks. One controls movement in all directions, the other controls throttle and engine start stop. A knob on the transmitter allows for choke on, off, and anywhere in between. A simple flip of a toggle switch on the transmitter engages or disengages the cutting blades via electromagnetic clutch.
For more information on this new and exciting solution to slope mowing, call Summit Lawn Mower Company at 1-662-266-RCLM (7256) or visit http://www.summitmowers.com
Featured Product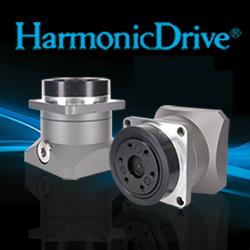 Harmonic Drive LLC, a leader in high precision motion control introduces new lightweight versions of select gearhead products. The new gearheads are ideal for designs where weight is a critical factor. Building on the success of Harmonic Drive LLCs current gear units, new lightweight versions were the next logical evolution of the CS/ SH product lines. With weight reductions of 20-30% without any reduction in torque ratings, the Lightweight (LW) gear units provide exceptional torque density.