The oil and gas industry, like the Department of Defense, is looking for new technology that can help make it more efficient and effective.
Despite looming budget constraints, speakers at AUVSI's Unmanned Systems Program Review Maritime Day kept upbeat about future uses of unmanned vehicles.

The conference day started off with Vice Adm. Kendall Card, who, standing in for the chief of naval operations, focused on the Navy's pillar of information dominance and warfighting to defeat the adversary.
"In the U.S. Navy it is no longer about fighting with ships, subs. … It's about fighting on the [electromagenetic] spectrum across the board," he said.
However, he also said that unmanned systems remain a priority within that infrastructure.
"Unmanned systems are not a luxury," he said. "They are absolutely imperative to the future of our Navy. And they are absolutely … a CNO priority."
However, he said how unmanned systems will precisely be used after possible sequestration kicks in 1 March will be "interesting" to see.
Echoing what speakers have said on all three days of the conference, Card said the future focus will be on sensor and software capabilities instead of purchasing new hardware. He added plug-and-play abilities and open architecture will be key.
"We have shifted already from platforms to payloads," he said.
Card also addressed the often slow and much maligned acquisitions process, which he said needs to be shortened.
"For me, it's absolutely clear that we need fewer and simpler requirements," he said, particularly for unmanned systems. "It gives you more flexibility to be able to create something."
In his question-and-answer session, Card also said that he'd be open to the Navy considering a service support, lease-style agreement instead of relying on system acquisition.
"I think there are systems that, in most cases, it makes sense to buy a contractor-owned, contractor-operated thing, …" he said. "In my mind, the contract will have to be written in a way that protects us both, but I would say, yes, that's a definite option, in particular for acoustic systems."
The one-two fiscal punch of sequestration and a continuing resolution will be harmful to naval research and development, said Rear Adm. Matthew Klunder, but the service still plans to continue work on some high-value unmanned systems.
"We just can't afford anymore to buy that extremely effective, cool, multi-multimillion-dollar whatever it's going to be that you shoot once and it's gone, " he said.
"The other guys, the other bad actors in the world, are probably using something much less expensive. So this community of interest right here, ... this is exactly where you come into play. Maybe there is a smaller something that's affordable and effective that we can counter that asymmetric threat" with, he said.
"I wan to flip the cost advantage on the adversary," Klunder said. "I want to make sure that we have present things out there for our team that flip the advantage to our side."
Sequestration could cut $230 million, or 9 percent, from future science and technology budgets, which will cause the cancellation of 20 percent of naval prototype systems as well as cause a reduction in force at the Naval Research Laboratory.
"That's a significant budget cut that's going to come out," Klunder said. "It really stinks."
Even so, the Navy is committed to the Large-Diameter Unmanned Underwater Vehicle. It has built two prototypes and is working on four more, and by fiscal 2017 hopes to have an endurance time of up to 70 days.
The Navy is continuing to work on aerial cargo systems as well and unmanned surface vehicles, he said.
"Let's stay positive. There are going to be some priority things we have to do, … but do not hand in the towel. Do not do it," he said. "I know it's going to be doggone tough. It's going to hurt the security of our country, but, doggone it, we're going to get though it but I need your help."
Oil and Gas
The oil and gas industry, like the Department of Defense, is looking for new technology that can help make it more efficient and effective, said Ed Tovar of InTechSys.
Technological revolutions in the industry have been few and far between, he said, but the Deepwater Horizon spill changed the industry from a safety standpoint. At the same time, the industry has to look for energy in ever-deeper waters and in the Arctic, as well as using new techniques such as hydraulic fracturing.
"The advent of unmanned vehicles, especially autonomous underwater vehicles, that opens up a lot of opportunities," he said.
Unmanned surface vehicles have gotten attention too, he said. He pointed to the partnership between Liquid Robotics, maker of the Wave Glider USV, and energy giant Schlumberger.
"As soon as that occurred last year, the message went around the entire industry, and that's a great thing," he said.
The industry needs such technology, he said, but as it's a global effort, unmanned systems companies that want to sell to oil and gas concerns should not have ITAR concerns and shouldn't expect huge, defense-style contracts, he said.
Featured Product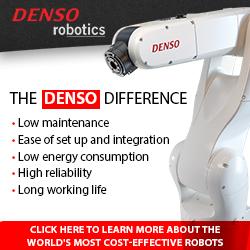 DENSO is the world's largest manufacturer - and user - of small assembly robots, employing over 17,000 of its robots in its own facilities. Over 77,000 additional DENSO robots are used by other companies worldwide. The compact, high-speed robots are used in traditional manufacturing sectors, as well as in advanced-technology applications in the medical, pharmaceutical and life sciences industries. Learn more about DENSO Robotics