Research, webinar, digital report and special demo area at ESX 2013 in Nashville to reveal potential for security robotics applications.
February 19, 2013 - The Electronic Security Expo (ESX) announced today that it will produce new media and event opportunities to help connect makers and distributors of security robots and robotics platforms with security systems integrators, monitoring companies and security industry OEMs. As robotics increase in functionality, reliability, and cloud connectivity - and decrease in cost - their potential application for typical guarding and detection tasks is on the rise.

The initiative, being termed "Security Robotics: Vision 2013," will define, describe and showcase that potential, helping OEMs and channel partners connect, speeding up development and adoption of security robotics solutions. EH's Robotics Trends Group, operators of the RoboticsTrends.com and RoboticsBusinessReview.com websites and producers of the RoboBusiness Leadership Summit, will assist in outreach for the program.
"Security Robotics: Vision 2013" is a three-part program, including:
Research. In February, ESX-producer AE Ventures' research division, AE Analytics, will field an online survey to better delineate interest in security robotics at all levels in the security supply chain from OEMs to integration and monitoring companies to commercial end-users.
Event. ESX 2013 will feature a Security Robotics Tech Zone within its exhibits, June 19-20, 2013 in Nashville, TN. Promoted as a special feature of ESX, the Zone will offer a cost-effective opportunity to demonstrate robots and robotics to the ESX audience of security integration and monitoring companies and security OEMs.
Digital Media. In July, ESX will produce a webinar on security robotics and distribute a digital special report on security robotics. The webinar and report will be promoted to 20,000+ security professionals in the ESX industry database, plus 20,000+ robotics industry professionals in the Robotics Trends' industry database
"Robotics are rapidly traveling the cost-performance curve toward the potential for delivering real, cost-saving security solutions," said John Galante, president of AE Ventures, which produces ESX for the Central Station Alarm Association (CSAA) International and Electronic Security Association (ESA). "Exciting for integrators and central stations is the potential to generate RMR from security robots by leasing, maintaining, monitoring and remotely controlling the equipment. We're thrilled to be on the cutting edge of this technology trend."
For more information on sponsorship opportunities associated with Security Robotics: Vision 2013, contact Jessica DaCosta at jdacosta@ae-ventures.com or 508-618-4226.
For more information on attending ESX or registering for webinars and report downloads, contact Katie Westerduin at kwesterduin@ae-ventures.com, of 508-618-7856.
About ESX
Owned, directed and sponsored by industry leading trade associations, ESA and CSAA, ESX is the education and networking event for security integration and monitoring companies. ESX offers the highest quality and most comprehensive seminar program, the most interesting and enjoyable networking events and the most focused exposition in the industry. ESX attracts the biggest, best and most progressive installing and monitoring companies in the world to meet with hundreds of exhibiting electronic security equipment vendors and industry service providers. For more information, visit www.ESXweb.com.
About EH's Robotics Trends Group
A division of EH Publishing, Inc., the Robotics Trends Group is the world's first integrated media company serving the burgeoning global robotics industry. It produces Robotics Business Review (www.roboticsbusinessreview.com), a subscription information product providing primary research, exclusive analysis, business news, and market observations for the robotics industry; the Robotics Trends website ( www.roboticstrends.com) and e-newsletter; and the RoboBusiness Leadership Summit (www.robobusiness.com).
About ESA
Established in 1948, the Electronic Security Association (ESA) is the largest trade association representing the electronic life safety and security industry. Member companies install, integrate and monitor intrusion and fire detection, video surveillance and electronic access control systems for commercial, residential, industrial and governmental clients. In cooperation with an alliance of chapter associations, ESA provides technical and management training, government advocacy and delivers information, advice, tools, and services that members use to grow their businesses and prosper. ESA may be reached at (888) 447-1689 or on the web at www.ESAweb.org.
About CSAA
The Central Station Alarm Association (CSAA) International is a non-profit trade association in the physical electronic security industry. It represents central station monitoring companies that are certified by CSAA-approved Nationally Recognized Testing Laboratories, such as FM Global, Intertek/ETL or UL, in the burglar and fire alarm, CCTV, video and access control industries. CSAA is legally entitled to represent its members before Congress and regulatory agencies on the local, state and federal levels, and other authorities having jurisdiction (AHJs) over the industry. Since its incorporation in 1950, CSAA has served its members' interests through education, publications, online training, meetings and conventions, certification, insurance and industry standards. www.csaaintl.org.
Featured Product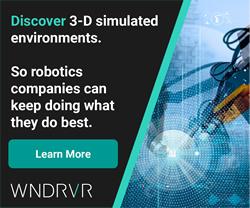 Build and deploy robust, reliable, and secure Linux-based robotic systems without the risk and development effort associated with roll-your-own (RYO) in-house efforts. With Wind River Linux get the industry's most advanced embedded Linux development platform, with a comprehensive suite of products, tools, and lifecycle services to help robotic manufacturers build the next-gen robotic systems. Your robot wants it!