Show to focus on custom production machinery and specialized technologies in manufacturing
Dearborn, Mich. February 20, 2013

More than 200 exhibitors are loading millions of pounds of the latest production machinery and specialized technologies at the George R. Brown Convention Center in Houston for next week's HOUSTEX 2013. Held February 26-28, this year's show, presented by the Society of Manufacturing Engineers (SME), is expected to have the largest selection of machinery ever displayed at this biennial manufacturing showcase.
Held in the center of what Forbes declared the best region in the U.S. for manufacturing, HOUSTEX allows manufacturers to compare the latest technologies, discuss industry trends and find solutions they can immediately use in their business.
"HOUSTEX is where manufacturers explore new materials and processes, and walk away with a solid understanding of where they are going next," said Cathy Kowalewicz, HOUSTEX event manager. "We expect to see the highest level of collaboration as attendees and exhibitors work together to discover new and creative ways to solve manufacturing challenges."
The event features more than 72,000 square feet of new interactive technology, keynote presentations and free technical education on the show floor, including:
Laser Learning Lounge: Focuses on the hottest trends and newest developments in laser technology and applications and their uses within manufacturing.
Keynote Presentations:
o Tuesday, Feb. 26 at 2 p.m. Karen Lindner, founder, Karico Performance Solutions, asks, "How can we make manufacturing sexy?" by looking at what manufacturers must do to raise the awareness of opportunities in manufacturing.
o Thursday, Feb. 28 at 11 a.m. Raymond Floyd, former senior vice president of Suncor Energy, addresses "Creating a culture of rapid improvement," explaining employee engagement efforts needed to ensure employees companywide are working toward a common goal.
Student Activities: Creative student designs ranging from NASA astronaut restraint systems, esophagus medical device, and robots for the new millennium. Participating schools include:
o Foster High School
o Clear Creek High School
o St. Agnes Academy
o Strake Jesuit College
o University of Houston College of Technology
Attendees can register for exclusive, special-access manufacturing tours inside Toshiba's hybrid vehicle facility or Thrustmaster's Houston production and testing facility. Both tours conclude with a walk through ARC Specialties' R&D lab with an inside look at the company's automated systems and robotic cells. These tours are scheduled for Monday, Feb. 25, and are available for an additional charge.
Visit HOUSTEXonline.com for more information and to register. The cost is $25.
About HOUSTEX:
HOUSTEX is dedicated to displaying the customized machines and processes that help manufacturers become more efficient and innovative. Featuring hundreds of exhibitors and manufacturers, the show floor will feature the latest products and services in manufacturing, many one-off works of art, inspiring the show's theme, the Art of Manufacturing, showing the evolution of manufacturing from off-the-shelf machines to highly individualized and specialized processes.
About SME:
The Society of Manufacturing Engineers (SME) is the premier source for manufacturing knowledge, education and networking. Through its many programs, events, magazines, publications and online training division, Tooling U, SME connects manufacturing practitioners to each other, to the latest technologies and to the most up-to-date manufacturing processes. SME has members around the world and is supported by a network of chapters and technical communities. A 501(c)3 organization, SME is a leader in manufacturing workforce development issues, working with industry, academic and government partners to support the current and future skilled workforce.
Featured Product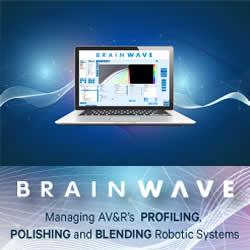 The AV&R team has developed a software for our robotic machines with the mission to make robotics accessible to everyone. This software is the glue which orchestrates the interaction between the system components in a single user-friendly interface. Comparing our machines to ourselves as humans, this software would be the control center of all faculties of the body, hence its name: BrainWave.