Acquisition expands Weiler Corporation's presence in Brazil's growing Metal Fabrication Industry
CRESCO, PA - Weiler Corporation announced today that it has acquired Rei Abrasivos, a manufacturer of vitrified and bonded abrasive products for the metalworking and foundry industries, located in Brazil. Terms of the transaction were not disclosed.

The addition of Rei Abrasivos expands Weiler's reach into the growing Brazilian metal fabrication and foundry segments. The acquisition allows Weiler to bring its "Performance CountsTM" message to customers in the metalworking industry throughout Brazil. "With this acquisition, we are joining two great companies and brands, both with proud family histories, now coming together to offer performance based solutions to the Brazilian market" said Chris Weiler, CEO, Weiler Corporation.
Rei is a well-recognized brand and important manufacturer of abrasive products in Brazil. The company's line of abrasives include vitrified, bonded, and specialty abrasives. For more than 25 years, Rei Abrasivos has helped customers improve their manufacturing processes by partnering with them to ensure the most cost effective solutions. "The addition of the Rei brand and products supports our strategy in Brazil and will increase our ability to meet the needs of our customers." said Claudio Santos, General Manager, Weiler do Brasil.
"The Rei team is excited about becoming part of the Weiler Corporation. Our legacy of providing performance based abrasive solutions to the Brazilian market complements Weiler's capabilities and together allows us to provide a broader range of industrial grinding and finishing solutions." said Luiz Antonio Gallo, Industrial Director, Rei Abrasivos.
About Rei Abrasivos
Rei Abrasivos, an ISO 9001 manufacturer of vitrified and resin bonded abrasives, has provided solutions to the Brazil metal fabrication and foundry markets since 1988.
About Weiler Corporation
Weiler Corporation, an ISO 9001 manufacturer of power brushes, abrasives and maintenance products, provides world-class service and surface conditioning solutions.
Featured Product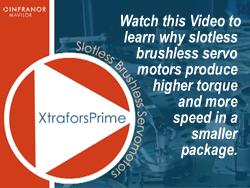 For 30 years, Infranor a motion control technology leader has been providing high-performance standard and custom motion control products and integration services. Feature Motor products include the FP series of Slotless Brushless Motors (high efficiency, best in class torque and power density, high speeds up to 30,000 RPM, smooth ZERO cogging motion, and 8 frame sizes). Pancake-style, explosion-proof, radiation-hardened, and kit motors are also available. Feature motor drives include the PAC/EASY series of compact servo drives (Sensorless, EtherCAT, CANopen, and Indexing).