3D printing experts Hod Lipson and Melba Kurman explain the promise and peril of a machine that can make (almost) anything.
Indianapolis, IN February 19, 2013

John Wiley and Sons, Inc. today announced the publication of Fabricated: The New World of 3D Printing (Wiley, 978-1-1183-5063-8, February 2013, US $27.95). Based on hundreds of hours of research and dozens of interviews with experts from a broad range of industries, Fabricated offers readers an informative, engaging and fast-paced introduction to 3D printing now and in the future. Written by Hod Lipson and Melba Kurman, leading experts on 3D printing, Fabricated is the first book to address both the practical and imaginative insights to the question "how will this technology change my life?"
"3D printing is already shaking our age-old notions of what can and can't be made," said Hod Lipson. "But what we've seen so far is just the tip of the iceberg. The next episode of 3D printing will involve printing entirely new kinds of materials. Eventually we will print complete products -- circuits, motors, and batteries already included. At that point, all bets are off."
Fabricated takes the reader onto a rich and fulfilling journey that explores how 3D printing is poised to impact nearly every part of our lives. The book features interviews with pioneering teachers, small businesses, artists, surgeons and researchers who are applying 3D printing and innovative design software to expand the limits of what can be done within various industries. Lipson and Kurman explain the weird and wonderful applications of 3D printing such as printing food, dental crowns and someday - replacement heart valves, organs and joints.
"Broad and versatile technologies like 3D printing send disruptive ripples through different industries," said Melba Kurman. "We will see the emergence of new business models and shorter supply chains in manufacturing. Someday people will print the perfect meal; surgeons will print replacement knee cartilage. The technology is moving fast - the law will struggle to keep up."
Fabricated will interest readers of all backgrounds. Non-experts will learn the basics of 3D printing technologies and design software, explained in lucid, non-technical language. Readers with a taste for science fiction will get a glimpse at the not-so-distant 3D printing future that's taking shape as leading researchers explore ways to 3D print smart materials and ready-made robots. The book also addresses a whole new level of intellectual property challenges that are on the horizon as 3D printers enable people to make copies and even "edit" commercial products and works of art.
Fabricated: The New World of 3D Printing is now available for purchase online and at retailers nationwide in both print and all e-book formats. For a list of retailers, visit http://www.wiley.com/buy/9781118350638.
About the Authors
Hod Lipson is an Associate Professor of Mechanical & Aerospace Engineering and Computing & Info Sciences at Cornell University. Lipson is a leading researcher and speaker on 3D printing, digital materials, and the transformative power of intelligent machines. His lab at Cornell has pioneered interdisciplinary research in 3D printing, product design, artificial intelligence, and smart materials. He directs the Creative Machines Lab, which focuses automatic design, fabrication and adaptation of virtual and physical machines. Lipson has received many awards, authored 200+ publications, and delivered 100+ invited talks and keynotes.
Melba Kurman is a technology writer, analyst and popular blogger. She became interested in additive manufacturing and emerging design software three years ago when she noticed that the same manufacturing machine could print custom dental crowns, coffee tables and heavy-duty, end use metal machine parts. Her passion is explaining the value of complex technologies in everyday language. In the past she helped Cornell University, Microsoft and other organizations bring new technologies to market. Melba is a graduate of Cornell University, the University of Illinois and the U.S. Peace Corps.
About Wiley
Wiley is a global provider of content-enabled solutions that improve outcomes in research, education, and professional practice. Wiley's Professional Development business creates products and services that help customers become more effective in the workplace and achieve career success. It brings to life the ideas and best practices of thought leaders in business, finance, accounting, workplace learning, management, leadership, technology, behavioral health, engineering/architecture, and education to serve these communities worldwide.
Founded in 1807, John Wiley & Sons, Inc. (NYSE: JWa, JWb), has been a valued source of information and understanding for more than 200 years, helping people around the world meet their needs and fulfill their aspirations. Wiley and its acquired companies have published the works of more than 450 Nobel laureates in all categories: Literature, Economics, Physiology or Medicine, Physics, Chemistry, and Peace. Wiley's global headquarters are located in Hoboken, New Jersey, with operations in the U.S., Europe, Asia, Canada, and Australia. The Company's website can be accessed at http://www.wiley.com.
Featured Product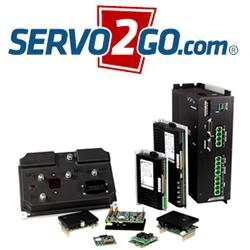 Engineered to drive brushless and brush servomotors in torque, velocity or position mode, Servo2Go.com offers a broad selection of servo drives in a wide range of input voltages and output power levels.