The co-located show will be held at the Orange County Convention Center on March 6 and 7. Our team will be meeting with current and prospective customers in booth number 906.
Suwanee, GA February 25, 2013

Prime Technological Services, LLC, a leading contract manufacturer of high mix, high complexity, printed circuit boards and electronic assemblies, is pleased to announce that our sales team will be exhibiting at the ATX South co-located show in Orlando, FL March 6 and 7. Our team will be meeting with current and prospective customers in booth number 906.
"We are excited to be joining the impressive list of suppliers and manufacturers attending ATX South and look forward to the opportunity to showcase our capabilities as a contract manufacturer and key supply chain partner," said Greg Chesnutt, CEO. Prime has over 24 years' experience in electronics manufacturing with significant experience in several vertical markets and technologies.
The 2013 co-located event in Orlando features ATX South, SouthPack, MD&M (Medical Design & Manufacturing) Southern Regional Series, PLASTEC South, Design & Manufacturing South, Electronics South, Contract Manufacturing, AeroCon, and Sustainability in Manufacturing. Attendees will have access to more than 2,000 suppliers featuring 400,000 sq. ft. of materials, equipment, systems, and services used in product design and development.
About Prime Technological Services, LLC
As an experienced contract electronics manufacturer, Prime specializes in printed circuit board assembly and top-level box build. For 24 years, we've been known as a quality leader in high-mix, high-complexity work for moderate-volume products and customers. Today, we're continually finding new ways to increase speed-to-market and drive down costs while maintaining a high level of flexibility and responsiveness. For more information please visit http://www.prime-ems.com.
About Canon UBM and ATX South
ATX South features leading automation suppliers showcasing the latest lean manufacturing, cost reduction, and enhanced productivity products and technologies, including custom automation/assembly systems, robotics, vision inspection systems, control software and hardware, sensors, motion control, drives, and motors, to help manufacturers compete in today's global marketplace.
UBM was founded in 1978, UBM Canon is the leading B-to-B event producer, publisher, and digital media company for the world's $3 trillion advanced, technology-based manufacturing industry. They produce national and international trade events and conferences annually, connecting thousands of exhibiting suppliers with tens of thousands of OEM buyers from around the globe.
UBM Canon's extensive manufacturing portfolio includes events for medical design and manufacturing, packaging, process technology, design engineering, assembly and automation technology, plastics processing, quality assurance, and electronics for a wide array of industries. UBM Canon's signature strategic co-location of these shows has resulted in the largest design and manufacturing events in the United States.
Featured Product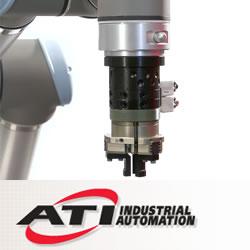 The ATI Robotic Tool Changer provides the flexibility to automatically change end-effectors or other peripheral tooling. These tool changers are designed to function reliably for millions of cycles at rated load while maintaining extremely high repeatability. For this reason, the ATI Tool Changer has become the number-one tool changer of choice around the world. ATI Tool Changer models cover a wide range of applications, from very small payloads to heavy payload applications requiring significantly large moment capacity.