Innovation: Gantry robot for components up to 135 x 12.5 x 3 m for welding, gluing, and mechanical processing
The newly developed rail-guided bridge gantry from Reis Robotics is ready to prove its strength: from the ship and bridge building sectors to the general steel construction sector. This bridge gantry allows a freely programmable work envelope up to 135 x 12.5 x 3m (x-, y-, and z-axis) for arc welding, resistance welding, and laser welding technology, as well as gluing and general processing tasks.

All axes of the gantry and all installed robots are an integrated unit. Thus, programming and operation is made easy, even on this large scale!
The system provides highest precision and synchronized path control as all known sensors for positioning can be integrated, even for the biggest components.
Different design versions, up to an additional W-axis, are available as a modular system.
Featured Product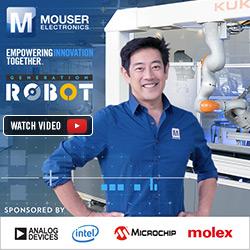 Join Grant Imahara in meeting with KUKA to learn how human-robot collaboration and robot learning is transforming the workplace. Is Industry 4.0 a future where robots and humans all hold hands? Tune in to see.