A win-win partnership for advanced research and development initiatives.
CAMARILLO, Calif.--Interlink Electronics, Inc. (OTC: LINK) announced today its affiliation with UC Santa Barbara's Corporate Affiliates Program. Interlink's 28 years of expertise in advanced sensor technologies for Human/Machine interface applications and UCSB's portfolio of services such as research collaboration, technology licensing, and state-of-the-art R&D facilities represent a win-win partnership for advanced research and development initiatives.

Interlink Electronics, Inc. is the inventor of the Force Sensing Resistor® (FSR®) technology and is a technology pioneer in the printed electronics industry with over 30 patents issued or pending. FSR® devices are uniquely suited for a variety of applications such as force sensing, position sensing, and mouse & pointing applications, in a wide range of industries including medical, industrial automation, automotive, ruggedized equipment, robotics, and military systems.
Dr. Howard D. Goldberg, EVP of Corporate Business Development & Strategic Partnerships, commented: "Interlink's team understands that collaborating with the best engineers and scientists will accelerate innovation & technology development. This will allow us to continue to be at the leading edge and drive new business opportunities. Recognized as world leaders in materials science and micro-fabrication technologies, UCSB offers some of the newest and most comprehensively equipped R&D facilities in the world."
Mr. Steven N. Bronson, Interlink Electronics' Chief Executive Officer, said: "To successfully compete in today's High-Tech markets, the notion of having to do all R&D in-house is outdated thinking. The key to commercial success is leveraging expertise through collaborative R&D relationships in order to accelerate time-to-market and reduce R&D costs." Mr. Bronson added, "Interlink Electronics is proud to become a member of the Corporate Affiliates Program, whose membership includes such High-Tech industry leaders as Teledyne, Microsoft, Northrop Grumman, Corning, and Raytheon."
About Interlink Electronics, Inc.
Interlink Electronics, Inc. (OTC Markets: LINK) is a sensor technology company and one of the world's leading innovators of intuitive interface design. With numerous patents around the world protecting its technologies and products, Interlink Electronics serves a world-class customer base from its corporate headquarters in Camarillo, California, and offices in Japan, Hong Kong and China. For more information, see http://www.interlinkelectronics.com.
Featured Product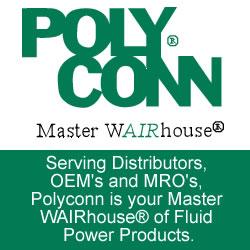 We can produce pneumatic hose and other pneumatic products to match your exact specifications. Our proficient engineering and quality management, coupled with outstanding customer service means Polyconn delivers high quality pneumatic components at competitive prices. Place your order or contact Polyconn for more information on our pneumatic hoses, pneumatic manifolds, Duratec® Pipe or any of our other top quality pneumatic products and components.