Velodyne increases LiDAR production due to recent multi-million dollar order from an international mapping customer as well as an heightened interest in autonomous vehicles, security, and traditional laser scanning.
Morgan Hill, CA March 11, 2013

Velodyne Acoustics Inc.'s LiDAR division announced it has completed a major expansion of its manufacturing facilities to keep pace with exploding demand for its high definition LiDAR sensors. The increased demand is due to Velodyne's recent multi-million dollar order from an international mapping customer as well as a heightened interest in autonomous vehicles, security, and traditional laser scanning.
Velodyne's HDL-64E has been the sensor of choice on autonomous vehicles for navigation and obstacle avoidance since its introduction in 2007, during the DARPA Urban Challenge. In 2011, Velodyne created the newer and much smaller HDL-32E. The HDL-32E is especially popular for mobile mapping applications where an unmatched amount of 3D data can be collected in a compact and competitive package, while driving at highway speeds.
"The HDL-32E was designed in response to customer requests for reductions in size and price compared to the original HDL-64E," explained David Hall, Founder and CEO of Velodyne Acoustics. "The recent expansion in our state of the art clean room facilities is proof that we succeeded in satisfying our customers' requests."
The HDL-32E uses 32 rotating pairs of eye-safe IR-lasers and photodiode detectors. These help create a digital 3D map that reflects distance and calibrates reflectivity information within a circle of 150-180m diameter. The sensor rotates up to 20Hz and delivers more than 700,000 data points per second in a 40 degree vertical field of view. This map can be used to determine location, detect changes of stationary objects, and characterize moving objects with respect to path and speed.
"Velodyne's experience in the design, manufacture and testing of complex LiDAR sensors allows us to scale up production smoothly and efficiently without interrupting customer shipments," says Velodyne's director of operations, Georg Ross. "Throughout the manufacturing cycle we've sought opportunities for continuous improvement to shorten cycle time, improve reliability and reduce costs. Proprietary laser alignment and calibration processes utilize the latest automation and robotics. The result is on-time delivery of products of highest quality."
Velodyne's success in High Definition LiDAR sensors echo David Hall's achievements in the acoustics world, where Velodyne is known for their digitally controlled, actively compensated, and distortion-free subwoofers. Following its tradition of acoustic success, Velodyne recently launched a line of high-end headphones including the in-ear v-Pulse, the on-ear wireless Bluetooth v-Free and over-ear studio headphone v-True.
About Velodyne LiDAR:
Velodyne, located in California's Silicon Valley, established its roots over 30 years ago. The company's LiDAR division evolved after founder and inventor, David Hall, competed in the 2004-05 DARPA Grand Challenge utilizing stereo-vision technology. Based on his experience during this challenge, David Hall recognized the limitations of stereo-vision and developed the HDL64 high-resolution LiDAR sensor. Since its first commercial sale in 2007, Velodyne's LiDAR division has emerged as the leading developer of laser imaging technology. Today, Velodyne continues to build on its iconic history by introducing groundbreaking technology and design . Find out more about by visiting velodyne.com and velodynelidar.com.
For more information about Velodyne LiDAR, please visit http://velodynelidar.com/lidar/lidar.aspx.
Featured Product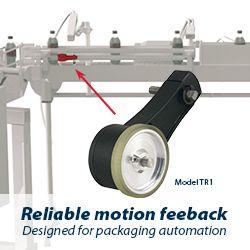 EPC is excited to announce our NEW online 3D Configurator. This new tool makes it even easier to configure EPC's products exactly how you need them for your application. The 3D Configurator interface is intuitive and works in any web browser for both desktop and mobile. It'll only take you a moment to learn your way around the program. Careful, though: it's so fun to play with, you may spend a whole afternoon on it!