Go Daddy Is a "Friend of the Future" Sponsor
CHANDLER, Ariz.--AZFirst, an Arizona 501(c)(3) organization supporting FIRST (For Inspiration and Recognition of Science and Technology), today announced Go Daddy, the Web's top platform for small businesses, is a "Friend of the Future" sponsor of the FRC (FIRST Robotics Competition) 2013 Arizona Regional robotics competition. Fifty area high schools will compete for honors and recognition that reward design excellence, sportsmanship, teamwork and more. The event will be held at Hamilton High School, Chandler, Ariz., March 22-23, 2013, from 8:30 a.m. to 6:30 p.m. The event is free and open to the public.

The FRC high school teams have just six weeks to solve the season's common problem using the same kit of parts and a standard set of rules. This year's game, "Ultimate AscentSM," challenges two alliances of three robots each to score points by tossing the highest number of discs into their respective goals. Extra points are awarded to robots that climb 10-foot-high tiered pyramids in the last seconds of the match. Winning teams can advance to the FIRST World Championship in Atlanta, Ga., which will be held April 24-27, 2013. Any student on a FIRST team is eligible to apply for over $16 million in scholarships.
"Go Daddy is committed to supporting programs such as FIRST that advance education in the areas of STEM (Science, Technology, Engineering and Math)," said Go Daddy Chief Scientist David Koopman. "Go Daddy has a responsibility to equip the next generation of technologists with the education and tools they need to advance in a technological society. Participating in a FIRST Robotics Competition gives students a hands-on experience that inspires them to pursue exciting careers in STEM. The fact they are programming robots and learning by working side by side with industry mentors and designing robots for a competition makes it fun!"
Students with a passion for technology just might work for Go Daddy someday. Go Daddy recruiters are always looking for the best and brightest minds to join the team. Go Daddy helps people succeed online. Of the company's 11 million customers, about 70 percent are small businesses. Go Daddy helps them grow their business by leveraging the Internet.
About FIRST
Accomplished inventor Dean Kamen founded FIRST® (For Inspiration and Recognition of Science and Technology) in 1989 to inspire an appreciation of science and technology in young people. Based in Manchester, N.H., FIRST designs accessible, innovative programs to build self-confidence, knowledge, and life skills while motivating young people to pursue opportunities in science, technology, and engineering. To learn more about FIRST, go to www.usfirst.org.
About Go Daddy
Go Daddy is the world's largest domain name provider, Web hosting provider and new SSL provider, focused on helping small businesses grow larger. Go Daddy provides dozens of cloud-based services and is the largest worldwide mass-market hosting provider by annual revenue according to 451 Research (Mass-Market Hosting Report-Fall 2012) and is the #1 provider of net-new SSL certificates for 2012, according to the Netcraft, LTD Secure Server Survey. To learn more about the company, visit www.GoDaddy.com/PR.
Featured Product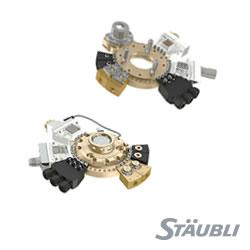 TX2 robots: redefining performance by offering collaborative safety and high performance in a single machine. These pioneering robots can be used in all areas, including sensitive and restrictive environments, thanks to their unique features. Safety functions are easy and inexpensive to implement. They allow a higher level of interactions between robots and human operators, while still guaranteeing protection of your people, production and investment.