Industry clients consult with CSIA to "pre-qualify" control system integrators
MADISON, Wis. - More and more industry clients are requesting certification for control system integrators as they consider the pool of candidates for industrial automation projects, according to the Control System Integrators Association (CSIA).

"CSIA members tell us more of the requests for proposals they receive are requiring that integrators be CSIA Certified," says Bob Lowe, executive director of CSIA. "Plant managers, corporate engineers, purchasing agents and other decision-makers are looking for ways to manage risk and establish quality benchmarks. In addition, these industry clients are increasingly using CSIA Certification and membership to 'pre-qualify' integrators for projects big and small."
CSIA Certification requires integrator companies to undergo an intense third-party audit and abide by strict performance standards. Members must meet or exceed the 79 criteria in CSIA's "Best Practices and Benchmarks Manual" to become certified. An audit is required every three years to maintain CSIA Certification.
"Currently, CSIA has 95 member locations around the globe that are certified," Lowe continues. "CSIA just certified a member in Mexico, our first one there. Our members are effectively demonstrating to directors of manufacturing, plant operations and other industry leaders that CSIA Certification lowers project risk and increases the likelihood of getting real results."
CSIA offers relevant information on the world's leading control system integrators with the web-based "Find an Integrator," a convenient, comprehensive online directory of CSIA control system integrator members. To learn more about CSIA, visit www.controlsys.org.
About CSIA
Founded in 1994, the Control System Integrators Association (CSIA) is a not-for-profit, global professional association that seeks to advance the industry of control system integration. Control system integrators use their engineering, technical and business skills to help manufacturers and others automate their industrial equipment and systems. CSIA members provide a range of services in dozens of industries.
Headquartered in Madison, Wis., CSIA is the "go-to" resource for control system integration. CSIA helps members improve their business skills, provides a forum to share industry expertise, and promotes the benefits of hiring a certified control system integrator. CSIA has more than 400 members in 27 countries.
Featured Product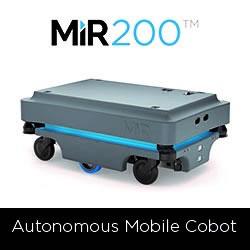 MiR200 is a safe, cost-effective mobile robot that automates your internal transportation. The robot optimizes workflows, freeing staff resources so you can increase productivity and reduce costs. MiR200 safely maneuvers around people and obstacles, through doorways and in and out of lifts. You can download CAD files of the building directly to the robot, or program it with the simple, web-based interface that requires no prior programming experience. With its fast implementation, the robots offers a fast ROI, with payback in as little as a year.