CUVR offers introductory class in unmanned air vehicles to the general public.
Exton, PA, USA March 21, 2013

The Cluster for Unmanned Vehicles and Robotics (CUVR) announces the formal launch of its new website. The website showcases the numerous activities undertaken by CUVR including its initiatives for air, ground and marine systems. Topical concerns over personal privacy issues, especially directed towards drones, has provided CUVR with a unique opportunity to capture public opinion through its online forums and provide a sounding board for the general public to way-in on the issue.
The CUVR website also serves as a one-stop informational resource for both military, industrial and commercial news as related to the identified markets.
Throughout the year, CUVR will be promoting educational courses and seminars, held locally, and taught by some of the industry's most influential and talented people. This activity will be open to the general public for those interested in learning more about the industry. The first course, "Public and Commercial Use of UAV's in the USA", is being held on March 26, 2013 at the Reading Regional Airport and affords the student an opportunity to become familiar with the systems, regulations and costs for flying unmanned air vehicles in the United States. The cost for the class is $90 and includes lunch. The afternoon will also feature a 1hour flight demonstration. A Certificate of Completion will be issued to those attending.
CUVR is also providing a membership option through the website, which offers a broader range of services. Membership is open to all individuals and organizations supporting applications for ground, air and marine based unmanned vehicles and robotics technologies.
In order to support the future needs of the industry, CUVR has teamed with 'Professor Bob's Hands-On Science' to provide elementary school students with access to real life technology experiences through exciting hands-on science experiments. Professor Bob has been amazing local elementary school young scientists with 'PHun' science experiences for over 19 years, and with funding from CUVR, he is now introducing them to the world of STEM (Science, Technology, Engineering and Mathematics) through the use of helicopters, airplanes, rovers, rockets and robots. The first classes, started in January 2013, and are continuing through May 2013.
Thomas Ciesielka, Founder and President stated, "Through our website and CUVR's goal to be an anchor identity, companies, individuals, and educational institutions will have an interactive and trusted resource to promote the region as a force multiplier in the industry".
About CUVR:
The Cluster for Unmanned Vehicles and Robotics (CUVR) is a grass-roots, member-driven, economic development organization (EDO) focusing on the unmanned vehicles and robotics markets.
CUVR supports all forms of locomotion including ground, air and marine vehicles coupled with a broad spectrum of robotic initiatives including medical, military, personal, industrial and consumer applications. Working closely with industry, CUVR provides its members with well-defined integrated business opportunities that meet an existing economic demand. CUVR works with colleges and universities, individuals, industry and other regional economic development organizations (EDO) for transitioning commercial products that are identified, designed, prototyped, engineered, produced, marketed and sold by member companies. CUVR supports economic growth by seeking out existing targeted research, supporting new company formation in the region, endorsing corporate growth and fostering technology specific start-ups.
Featured Product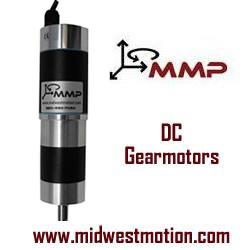 Midwest Motion Products, Inc. (MMP), is a well-established, healthy, & growing Family Owned Business, founded in 2001. MMP specializes in cost-effective standard DC Gearmotors, Motors, Controls, and ancillary equipment. Known world-wide for our "Lightning Fast" delivery capabilities, you can have a Standard Planetary or Right Angled DC Gearmotor BUILT and SHIPPED, often on the very same day you call. Offering Brushed and Brushless designs, with winding voltages ranging from 12 VDC to 120 VDC, we can deliver your "Robust & Reliable" samples within HOURS, instead of weeks, or even months.