14th annual award recognizes top sellers of conveyors from intelligent materials handling solution provider
ELK GROVE VILLAGE, Ill.--Wynright Corporation, a leading independent, U.S.-based provider of intelligent material handling systems, today recognized excellence among its channel partners as it announced the winners of its 2012 Top 10 Integrator-Distributors for Automotion Conveyor Solutions award. The annual award, which recognizes the integrator-distributors with the highest sales volume of Wynright's Automotion brand conveyors and sortation equipment as measured in total dollars, comes as the company sees increases in its large, complex product sales.

"In 2012 Wynright celebrated its 40th year in the materials handling business"
The 2012 winners include: Hy-Tek Material Handling, Inc. of Hebron, KY; World Source of Batavia, IL; DC Integration of Spring Hill, TN; S&S Systems of Farmingdale, NJ; ET Integration of Norcross, GA; DS Handling of Ontario, Canada; Warehouse Systems Inc. of Northbrook, IL; Conveyroll S.A. De C.V. of Tamps Mexico; E-Tech of Minneapolis, MN; and W&H Systems, Inc. of Carlstadt, NJ. Each company will receive a plaque commemorating its achievement at Wynright's annual awards banquet in Chicago in May, 2013.
"In 2012 Wynright celebrated its 40th year in the materials handling business," said Kevin Ambrose, CEO of Wynright Corporation. "During that time we have built an outstanding network of integrator-distributors who have all contributed greatly to our longevity as well as our success. We are delighted to recognize the achievements of this select group in designing systems that incorporate our conveyor and sortation products, and are thankful for their continuing support."
Wynright offers a wide variety of materials handling solutions, such as conveyors (including its exclusive Autoroll+™ Motor Driven Roller conveyor that uses Ethernet connections rather than hard wiring back to a PLC to communicate between zones), sortation, warehouse control systems, picking solutions, robotics (including its latest innovative product, the Robotic Truck Unloader), structural solutions ( including mezzanines), storage and industrial cranes.
"Wynright has a long history of innovation and engineering excellence, and 2013 will see even more it," Ambrose said. "With the help of our entire integrator-distributor network we will continue helping our clients improve efficiencies, reduce costs and deliver superior customer service."
About Wynright
Wynright Corporation is the nation's leading independent, U.S.-based provider of intelligent material handling systems. With more than 200 engineers in-house, the company designs, manufactures, integrates and installs the full spectrum of intralogistics solutions, offering both Wynright-branded and third-party equipment to meet customer needs. These include leading-edge conveyor and sortation systems, voice and light directed order fulfillment equipment, a suite of warehouse controls & execution software, robotics, mezzanines, and structures, all backed by critical round-the-clock service and support.
Since its founding in 1972, Wynright has been a trusted partner to some of the world's largest and fastest-growing companies, showing them how to use their space more efficiently to deliver improved productivity, today and tomorrow. For more information on our services, technology and product portfolio, please visit www.wynright.com.
Featured Product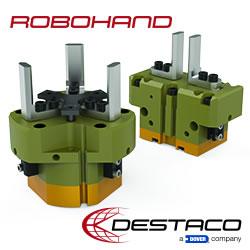 Automatically change end effector tooling quickly and easily with Destaco's Automatic Tool Changers. Designed with exceptional repeatability, high rigidity and load capacity, they are perfect for multiple tooling applications utilizing one robot. We offer different models and sizes to handle light-duty to heavy-duty applications. Our RQC/RTP Series provides a high level of flexibility with a configurable, modular design that accommodates up to four optional modular interfaces.