Guideline™ Robotic Convoy System Will Be Recognized at the 2013 Edison Award Gala on April 25, 2013, in Chicago.
Chicago, Illinois March 25, 2013

Guideline™ Robotic Convoy System has been named a 2013 Award Finalist by the internationally renowned Edison Awards™. Guideline™ by Autonomous Solutions, Inc. (ASI) is a Finalist in the Applied Technologies (Safety) category, one of twelve categories honored by the Edison Awards™. The distinguished awards symbolize the persistence and excellence personified by Thomas Alva Edison, inspiring creative minds to remain in the forefront of innovation, creativity and ingenuity in the global economy.
"More than any year, this year's slate of Finalists demonstrate the enormous value of teamwork, experimentation, consumer focus, market awareness and game-changing success," said Frank Bonafilia, Edison Awards' executive director. "It's exciting to see companies like Autonomous Solutions continuing Thomas Edison's legacy of challenging conventional thinking."
"This is a great honor to be selected as an Edison Award Finalist," said Mel Torrie, CEO of ASI. "Guideline is a simple, but innovative solution to autonomous convoying that will save lives and also increase productivity. We're excited that the Edison Award Panelists also recognized Guideline's benefits and potential."
The ballot of nominees for the Edison Awards™ is judged by more than 3,000 senior business executives and academics from across the nation whose votes acknowledge the Finalists' success in meeting the award criteria of Concept, Value, Delivery and Impact. The Panel includes members of the Marketing Executives Networking Group (MENG), the American Association Advertising Agencies (4As) the Chief Marketing Officer Council (CMO), the Design Management Institute (DMI), the American Productivity & Quality Center (APQC) the American Society of Mechanical Engineers (ASME) and the Association of Technology Management & Applied Engineering (ATMAE). Also on the Panel are hundreds of past Edison Award winners, marketing professionals, scientists, designers, engineers and academics.
Award winners will be announced April 25, 2013, at the Edison Awards Annual Gala, held in the Grand Ballroom at historic Navy Pier in Chicago, IL.
The Edison Awards™ is a program conducted by Edison Universe, a 501(c)(3) charitable organization dedicated to fostering future innovators. The 2013 Edison Awards are sponsored by Nielsen, Discovery Communications, Science Channel, and USA Today. For more information about the Edison Awards™, Edison Universe and a list of past winners, visit http://www.edisonawards.com.
About ASI
For more than 12 years, Autonomous Solutions, Inc. has been a world leader in unmanned ground vehicle systems and components. From their northern Utah headquarters, ASI serves clients in military, agriculture, industrial, and automotive proving ground industries with solutions ranging from remote controlled to fully autonomous vehicles. ASI's world-class engineering staff is dedicated to the ideals of innovation, quality, and safety.
Featured Product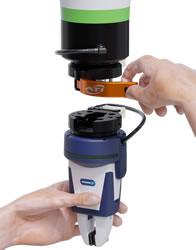 Simpler, stronger, and more precise. ATI Industrial Automation has developed a series of Manual Tool Changers that provides a cost-effective solution for quickly changing tools by hand. They feature a unique design that combines high strength, excellent repeatability, and a patent-pending screw-cam locking mechanism with multiple fail-safe features, which resists vibration and prevents loosening. These robust and compact Manual Tool Changers can handle payloads up to 80 pounds (36 kg) and pass pneumatics and electrical signals.