U.S. workforce reaches 20,000, up 37 percent over 2011--- Company invested $10 billion in U.S. manufacturing and software since 2010, including acquisitions of Baldor, Thomas & Betts and Ventyx--- U.S. revenues and employment doubled since 2007
Cary, NC - March 26, 2013 - ABB, the global leader in power and automation, said today at its Automation & Power World 2013 customer conference in Orlando, FL that its US revenues rose 26 percent to a record $6.7 billion in 2012. This growth is boosted by acquisitions and strong organic growth as industrial clients increase productivity and utilities modernize power grids. Interested media can click here to join the live newscast today at 9:30 A.M EDT.

Organic order growth reached 12 percent in 2012 as U.S. industrial customers ordered more products like robots, instruments, motors and low-voltage products to increase productivity and energy efficiency. Utilities invested in new high-voltage transmission lines to upgrade the power grids and added smart-grid solutions to offer new services and integrate enterprise with operational data.
ABB has invested around $10 billion in the U.S. over the last three years and more than doubled its revenues since 2007 from $3.1 billion. During this period the U.S. work force grew to nearly 20,000 from 8,700. For North America as a whole, including Canada and Mexico, revenues also more than doubled in the last five years to $8.5 billion and the number of employees rose to more than 27,000 from 11,300.
ABB acquired several U.S. companies over the last years including Ventyx - a utility and energy software leader; Baldor Electric - the nation's top industrial motors and generator producer; and Thomas & Betts - a top manufacturer of low-voltage electric equipment. Thomas & Betts alone added about $1 billion to ABB's 2012 U.S. revenues.
"The U.S. is the largest single market for ABB. The expansion in the U.S. and North America is a pillar of the company's 2015 growth strategy," said Enrique Santacana, CEO for ABB's North America region. "Our solutions are helping to boost the productivity and energy efficiency of industry clients and to modernize power grids. ABB's growth strategy is targeting market and technology gaps where the company is underrepresented. We are also shifting to regional customization from centralized manufacturing."
ABB has also invested in local production. It opened a $100-million power-line cable factory near Charlotte in 2012 and has expanded other facilities such as its smart-grid center in Raleigh.
"Boosting productivity and energy efficiency make it possible to produce goods in America for American customers. At the same time we are bringing new solutions to the U.S. power grid and helping to make the smart grid a reality," Santacana said. "Our R&D investments will continue to keep us at the forefront of technological development."
The MIT Technology Review, the official science and technology journal of the Massachusetts Institute of Technology (MIT), named ABB, a Fortune 500 company, to its 2013 list of top 50 global innovators.
ABB was cited for a technology breakthrough that solved a 100-year-old electrical engineering puzzle, paving the way for a new generation of highly efficient and reliable power transmission grids. After years of research, ABB developed the world's first circuit breaker for high voltage direct current (HVDC). It combines exceptionally fast mechanics with power electronics, and will be capable of interrupting power flows equivalent to the output of a large power station within 5 milliseconds - 30 times faster than the blink of a human eye.
About Automation Power World 2013
The annual four-day program consists of educational workshops, technical training, customer case studies, application workshops, and panel discussions. With over 150,000 square feet of power and automation equipment, over 400 educational training courses, and access to ABB and industry experts, Automation & Power World is the "must-attend" event to be introduced to the latest products, solutions, and cutting-edge technology and to learn how these solutions can positively impact your business.
About ABB
ABB (www.abb.com) is a leader in power and automation technologies that enable utility and industry customers to improve performance while lowering environmental impact. The ABB Group of companies operates in around 100 countries and employs about 145,000 people.
About Baldor
Baldor Electric Company (www.baldor.com) is a leading marketer, designer and manufacturer of energy-saving industrial electric motors, mechanical power transmission products, drives and generator sets. Baldor, a member of the ABB Group, is headquartered in Fort Smith, Arkansas.
About Thomas & Betts
Thomas & Betts Corporation, a member of the ABB Group, is a global leader in the design, manufacture and marketing of essential components used to manage the connection, distribution, transmission and reliability of electrical power in utility, industrial, commercial, and residential applications. With a portfolio of more than 200,000 products marketed under more than 45 premium brand names, Thomas & Betts products are found wherever electricity is used. Thomas & Betts' headquarters are in Memphis, Tenn.
About Ventyx
Ventyx is a leading software provider to global energy, utility, communications, and other asset-intensive businesses, offering a broad range of solutions including: asset management, mobile workforce management, energy trading and risk management, energy operations and energy analytics. The company also provides software solutions for planning and forecasting electricity needs, including renewables.
Featured Product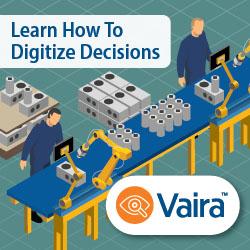 Smart devices and edge processing are considerable assets to vision as it continues to progress towards Industry 4.0. Through these compact, lightweight, lower cost devices, alongside cloud-based processing, machine learning and AI capabilities are becoming more and more prominent in the industrial automation market.